---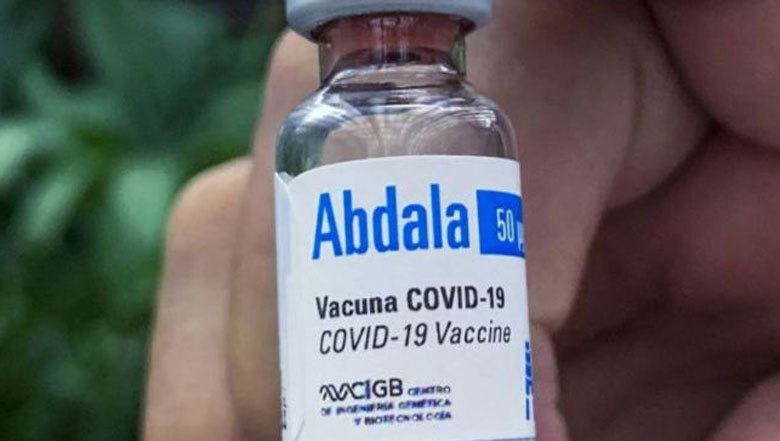 Scientist Marta Ayala has just informed Cuban President Miguel Diaz-Canel that the ABDALA vaccine show 92.28% efficacy in phase III clinical trials with three-doses carried out on the Island.
The Cuban president commented: "I am thinking of Martí, who wrote: "it is not the intelligence received and casual what gives man honor; but the way he uses it and saves it, there is only one way to endure and that is to serve."
The Abdala vaccine was developed by the Center of Genetic Engineering and Biotechnology (CIGB). It is composed of the active pharmaceutical ingredient, which is the RBD (receptor binding domain, its acronym in English), which is added to the formulation of aluminum hydroxide and other components.
On December 7, the Phase I clinical study began with 132 subjects between 19 and 54 years of age. Safety and immunogenicity were studied.
In Phase II trials, 660 volunteers up to the age of 80 years, the safety of the vaccine candidate was demonstrated.
In Phase III, 48,290 volunteers took part establishing safety, immunogenicity, and efficacy.
The Soberana 02 vaccine efficacy was recently reported to be 62% with just two doses. It is expected when the eventual results of this vaccine with the third dose of Soberana Plus are in, the efficacy will rise considerably.
These studies and the results have been achieved while many COVID variants are spreading, including the dreaded Delta variant. This supports the Cuban strategy, which from the beginning, considered the use of the three-dose variant. Cuba developed its studies without rushing and with the concept which will allow it to achieving the vaccination of 70% of the population by the end of August. Before the end of the year, the entire population will be vaccinated.
At present, four more studies of vaccine candidates are being developed in Cuba: Soberana Plus for those who have suffered the disease, Mambisa, a nasal application, Ismaelillo for children and Soberana 01, to be used in groups at risk for vaccines.
The result shows the capacity of science and the Cuban healthcare system, which is becoming the first Latin American, small and developing nation to achieve independence in solving the coronavirus situation.
Cuba has announced that it will make its vaccine available to the most vulnerable nations and already has agreements in place with several countries for this purpose.
Related News:
More than a vaccine, the Abdala and Soberana represent a country.
0 comments