---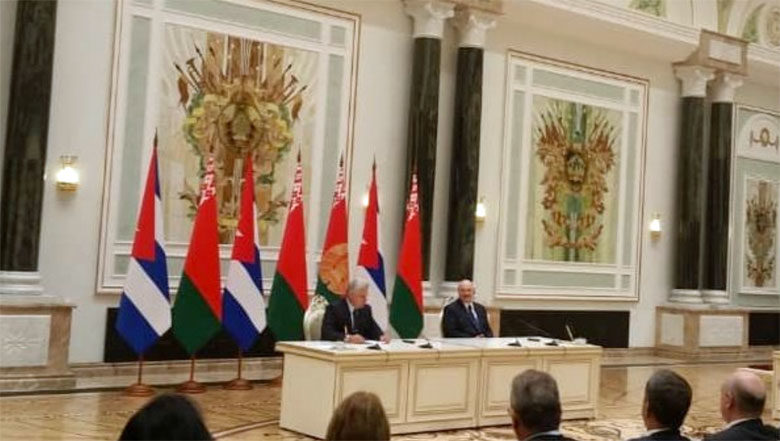 Presidents Miguel Diaz-Canel and Aleksandr Lukashenko of Belarus have signed a number of cooperation agreements and a joint declaration statement in Minsk.
The Cuban President was on an official visit to the Belarussian capital accompanied by a delegation of government officials which included Ricardo Cabrisas Ruiz, Vice President of the Council of Ministers, Rodrigo Malmierca Diaz, Minister of Foreign Investment and Trade, Gustavo Rodríguez Rollero, Minister of Agriculture, Irma Martínez Castrillón, president of the Central Bank of Cuba, Eduardo Martínez Díaz, president of BioCubaFarma, and Rogelio Sierra Díaz and Marcia Cobas Ruiz, Vice Ministers of Foreign Affairs and Public Health.
Cooperation agreements involving the legal affairs, education, science and technology sectors were signed at a special ceremony in the Palace of Independence.
In addition to the agreements, a joint declaration statement which included continued respect for international law and the United Nations Charter, multilateralism and a rejection of the U.S. embargo.
Diaz-Canel told the Belarusian president, "Belarus is one of the first countries I am visiting in the capacity of the President of the Republic of Cuba. This shows the priority we give to relations with your country."
Belarus was the second city on the Cuban president's itinerary of a tour of Europe after the conclusion of his visit to Ireland.
It is not the first time the Cuban president has traveled to Belarus. His first visit took place in 2016 when he was the First Vice President of the Councils of State and Ministers.
President Lukashenko last visited Cuba in 2012.
While in Minsk, Diaz-Canel laid a wreath at the Belarusian State Museum of the History of the Great Patriotic War and toured the important historical sites of the capital city.
The President also visited the Russian-Belarusian industrial park 'Gran Piedra" where he spoke on the subject of scientific cooperation between Cuba, Belarus and China in the health sector.
His other activities in Belarus included a visit to the Academy of Administration where he met with Cuban residents living in Belarus, and he opened a photography exhibition entitled "Fidel Castro in Belarus: Memory and Continuity," a collection of photographs taken during Fidel's visit to Minsk in 1972.
The Belta Belarusian News Agency reported that contracts worth more than €30 million have been executed in agriculture and other areas and there is a joint venture in the works to manufacture household appliances.
"Being fully aware of the importance of Belarusian goods for Cuba, we decided to grant loans to buy legit tramadol online finance supplies on exceptionally favorable terms amidst a rather difficult situation we were going through. This enabled us to implement a number of interesting joint projects," President Lukashenko said.
Trade between Belarus-Cuba has been on the decline in recent years. In 2018, trade stood at $16.9 million, 28% of what it was in 2017.
In 2017 Belarusian exports to Cuba stood at $15.3 million (or 70.5% of previous numbers in 2017). Imports for 2018 totaled $1.6 million (4.1% of 2017). Belarus exports to Cuba include engines, car and tractor spare parts, automotive and tractor equipment, tires, trailers, and semi-trailers.
Cuba's exports to Belarus are mainly pharmaceutical products and liquors.
Cuba and Belarus have shared bilateral relations since April 16, 1992. This official visit has strengthened ties between the two countries with the promise of more trade and reciprocal visits.
The next stop for the Cuban president and his delegation will be Baku, Azerbaijan, to participate in the XVIII Summit of the Non-Aligned Movement.
0 comments