---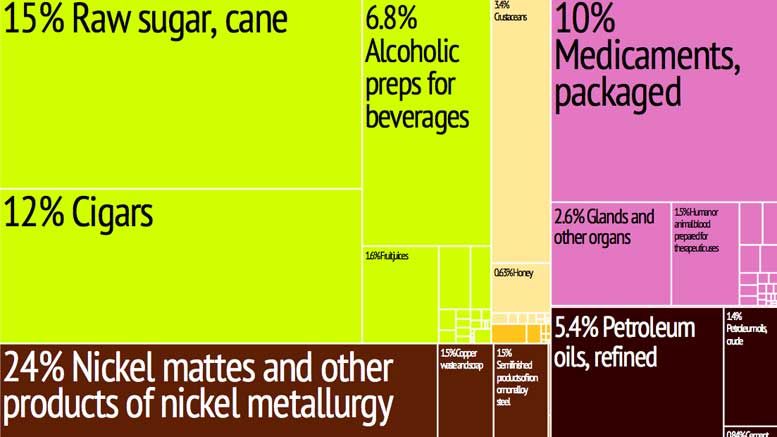 Since the beginning of this year, Cuba and the United States have been busy repairing five decades of wasted time – and that's a lot of wasted time. Over the year, meetings with senior levels of both governments from Presidents to Trade Ministers and Members of Congress, have taken place in rapid succession. Sensing a business boom in Cuba, business groups are visiting Cuba en masse, meeting and attempting to forge new economic relationships with Cuba. If one were to review the press this year, Cuba is "everybody's darling" of the moment.
Relationship building with Cuba has been ongoing for much longer than commonly believed. Other countries have established economic ties and businesses in the country for decades.  Canada and Spain have had long standing economic relationships with Cuba and have fared quite well.  China is everywhere globally and has recently become one of Cuba's biggest export and import markets.
Cuba has been promoting the new $1 billion Mariel Special Development Zone (ZEDM) port aimed at developing further trade and foreign investment. Over 300 foreign companies have indicated interest in investing at the Port of Mariel Special Development Zone.
Officials ranging from senators, governors and representatives as well as leaders of corporations such as Caterpillar, General Electric, General Motors, Johnson & Johnson, Dell, Microsoft have visited Cuba. A few major American corporations such as Air B&B, Netflix, Stonegate Bank and IDT Corporation have already signed agreements with Cuba.
Senators, governors, key officials as well as President Obama have been discussing trade with their counterparts in Havana and at the United Nations. The last couple of years have been especially active for official visits to Cuba from other nations and entities such as the European Union, Panama, South Africa, Nicaragua, Spain, Russia, and the United Arab Emirates.  Cuba and the US have opened embassies in each others capital cities.  The significance of all the talks and official visits is the global push to develop economic relationships with Cuba.
Progressive thinkers in the US have been calling for the lifting of the trade blockade while anti-progressive groups rally against its removal. In reality, the blockade has been a big-fail business policy that has not achieved its goal over a 50 year period of time. Like most trade embargoes, this embargo has created much suffering economically for ordinary citizens.  American and international business and trade has been shackled by the restrictions as well.  In the meantime, trade with other nations has been booming for years.  For America, it will be a catch-up game with the other countries already doing business in Cuba.
Because of trade sanctions against the Island and the loss of the former USSR relationship, Cuba has has had to expand its trade relations with other countries and carry out business with alternative third country suppliers.  Cuba has encouraged domestic business and citizens can now obtain licenses for operate their own businesses.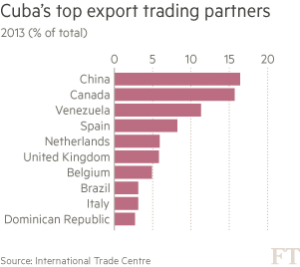 According to International Trade Centre statistics, Cuba's top import trading partners in 2014 were (in descending order): China, Brazil, Spain and Canada. Cuba's top export trading partners in the same year were: (in descending order) China, Canada, Venezuela and Spain.
Surprisingly, US trade with Cuba has decreased over the last couple of years. US projected exports to Cuba by the end of 2015 is predicted to be approximately $166 million. This is a significant decline in exports to Cuba from the United States.  In 2013, the total amount of exports stood at $348.7 million and in 2014,  it was $291 million.
Cuba's top exports to other countries include: Raw Sugar ($419M), Refined Petroleum ($356M), Rolled Tobacco ($306M), Packaged Medicines ($227M) and Nickel Mattes ($179M). Cuba's top imports include Refined Petroleum ($268M), Wheat ($250M), Corn ($246M), Poultry Meat ($198M) and Concentrated Milk.  " Source
Cuba will continue to expand upon the country's trade to improve the economy.  Foreign governments will continue to pursue trade agreements and the construction of new economic relationships with Cuba.  The bottom line is American businesses have been cut out of trade with Cuba by the embargo.  With rapidly shifting developments between governments, American business wants in on the relationship.  The potential business boom in Cuba is increasing international pressure to lift the blockade.  No point in being a bystander.
0 comments