---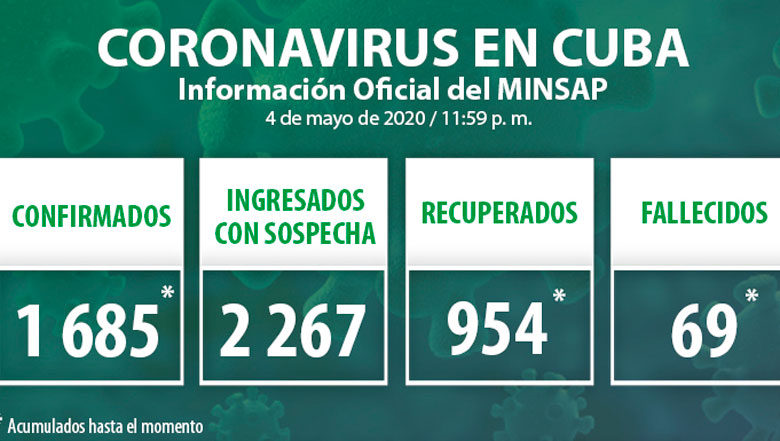 The Ministry of Public Health (MINSAP) confirmed 17 new positive cases of the Coronavirus in Cuba, the lowest number in the last fifteen days. Meanwhile, 78 medical discharges were reported and no deceased. The Island has reported a total of 1,703 infections since the original outbreak.
The municipalities most impacted in the capital city of Havana include Cotorro, Centro Habana, Habana del Este, Cerro, Plaza de la Revolución and 10 de Octubre.
A total of 69 patients have died from COVID-19 in Cuba.
The age groups most at risk are those between 40 and 60 years followed by those over 60. Of the total number of infections, 47.1% of those affected by the virus were without symptoms.
The Island has adopted a very responsible policy on combatting COVID-19 including restrictions and isolation in order to prevent a second or third wave of infection, as has occurred in other nations. In addition, the Island has actively pursued research and development in the global race to find a cure or a vaccine.
Cuba has also sent medical brigades to 23 countries in the battle against the pandemic.
Dr. Francisco Durán, the National Director of Epidemiology at MINSAP reported that 2,267 patients are still hospitalized for clinical epidemiological surveillance and 6,047 are under primary healthcare surveillance at home.
The doctor also indicated that of the patients diagnosed with the disease, 652 were in stable condition, 954 have recovered, two evacuated to their countries of origin, three in critical condition and five are serious.
(Updated to show the latest total number of cases in Cuba as reported by MINCEX Cuba on Twitter).
0 comments