---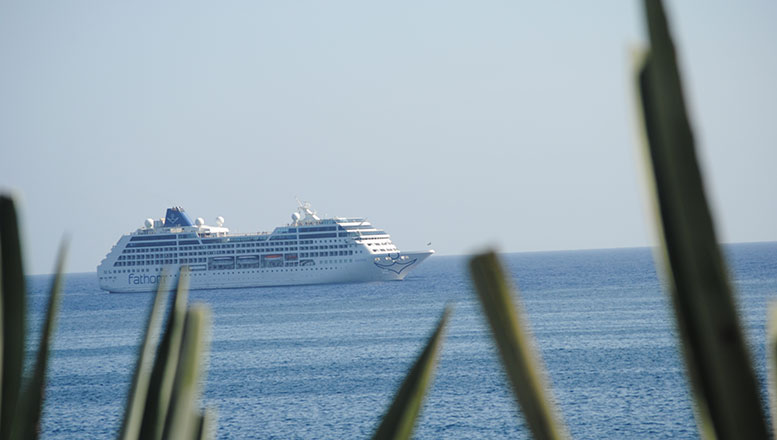 (Forget the Good)
On the morning of May 2, 2016 I was relaxing in the lush garden of Havana's elegant Hotel Nacional, enjoying a cafecito while peering over the typically uncrowded Malecón. Just beyond, the azure waters of the Gulf lapped lazily against the seawall. An elderly Cuban man pushed a garbage can on wheels as he dutifully swept the sidewalk clean.
The peace of the moment was markedly different from my previous morning's experience, when I had joined nearly one million members of Cuban Workers Unions in a joyously noisy parade through the city's Plaza de la Revolución for the annual Premier de Mayo celebration– the workers' nationwide show of solidarity and patriotism.
Now all the workers had returned to work and I cherished the peace of the Nacional. The cafecito was replaced with una cerveza Cristal.
Abruptly the silence was broken by a frighteningly familiar and intrusive sound— the cursed, blaring horn of a cruise ship passing in the view before me. Not in 50 years had a U.S. cruise ship been seen entering Havana's harbor. This was the Fathom ship Adonia, granted passage by the Cuban government.
My heart sank.
Immediately I felt a sense of sadness over loss of innocence for the Cuban people. Never again would the view from the Nacional be the same. I knew that this ship would be followed by one more, then 10 more, then hundreds— each carrying thousands of rude, arrogant invaders. Such is the way of cruise ships. I know because I watched cruise ships destroy the laid-back, tropical atmosphere in my home island, Key West, Florida.
I remember when they first appeared before our city commission with promises of streets paved with gold for almost no cost to the city. "Low impact" tourism, they described their ship's visits. "And there will be only one or two ships a week," they added. They touted the huge sums of money each cruise-shipper would drop into the Key West economy.
Nothing could be further from the truth.
After the city agreed, before the year was out, the number of visiting ships tripled. In ensuing years it has grown to two and even three ships per day, each disgorging thousands of tourists onto narrow Key West streets, clogging streets and stressing residents.
The first question asked by almost every passenger is "Where is the bathroom?" The impact on the local sewer system is phenomenal
On some days there are more cruise-shippers present than permanent residents.
That money they spend? Most buy a post card and shot glass, or maybe a t-shirt. That's it. The streets have yet to be paved with gold. Except for a few local politicians who receive annual junkets from the cruise lines
They pollute our waters and destroy our reefs.
The same will happen with Havana.
The ship I watched arrive in the harbor on that May morning in 2016 was only the camel's nose inside the tent. Already the number of cruise ships visiting Havana and other locales has greatly increased.
That new opportunity offered the cruise industry— the entire nation of Cuba– was U.S. President Barack Obama's doing. He had visited Havana just a month before, on March 20, bringing with him the promise of renewed diplomatic relations with the island nation.
Obama charmed the Cuban people and most of the political leaders. He said it was time for the two countries to look forward "as friends and as neighbors and as family, together."
One leader, El Jefe Fidel Castro was not charmed, however.
In a letter published in Granma, the Cuban state newspaper, Fidel dismissed Obama's words as "honey coated" and added emphatically that "we don't need the empire to give us any presents."
Likely Fidel would have considered U.S. cruise ships as one of those "presents."
But Fidel, the one man who could have stopped an invasion of cruise ships, is gone. And his brother, Raúl Castro and newly appointed President Miguel Díaz-Canel seem to be enamored of cruise ships. Why wouldn't they be— with disembarkation fees totaling thousands of dollars going into GAESA coffers?
Wait. GAESA, the division of FAR, the Cuban Revolutionary Army? Isn't that a branch of Cuban military which the U.S. State Department said could not be given any U.S. dollars?
How did that happen? Good question. It's one we've been asking ourselves and the State Department through tweets. They have never responded.
Let me answer the question for you. Why is the State Department making this exception for the cruise industry? Because they are a huge industry, with powerful lobbyists. Those lobbyists make huge political contributions to Congressmen and Senators. Simple capitalist math.
Of course, since the election of President Donald J. Trump, the political atmosphere between Washington has changed considerably— for the worse.
Trump has severely cut staff at the U.S. Embassy in Havana (and the Cuban Embassy in Washington), threatened to re-impose the Helms-Burton act and placed sanctions on oil deliveries from Cuban ally, Venezuela.
What is the likelihood Trump might halt cruise ship traffic to Cuba? Not very likely. Same reason— powerful political influence from the industry.
[As an aside, I also feel that President Trump will soon tire of the anti-Cuban advice of Senator Marco Rubio, Secretary of State Pompeo and Ambassador John Bolton. There is far more pressure from his electorate, the majority of which support further expansion of relations with the Cuban people.]
At this point you might have the impression that this discussion of cruise ship traffic to Cuba is somewhat biased, anti-cruise ship even
Well, I like to be fair and balanced. Sort of.
So I consulted an acquaintance who lives in Havana and is a leader in the cuentapropista (private sector) community there.
Camilo Condis is a Cuban entrepreneur and social activist. He is Senior Manager of Artecorte Cuba, a grassroots community organization. Condis is an advocate for the rights of small business owners in Cuba and resides in Havana, where he rents out an apartment works for a restaurant. He has experienced cruise ships and their passengers personally and professionally.
Here's what Camilo had to say:
"Although we have seen an increase in the number of tourists who visit Cuba via cruise ships, this has not necessarily helped the Cuban cuentapropistas and, in consequence, the Cuban people in general.
"Of the three most popular types of private businesses in the country: restaurants, bed and breakfasts and taxis, only the last ones can benefit from the ships, as most of their passengers won't eat at private restaurants or rent a place to stay.
"The number of cuentapropistas has been growing steadily since 2014, but without a thriving market, there could be a decrease, which will affect thousands of families across the country economically."
Condis reveals the fatal flaw in the argument that cruise ship traffic helps the Cuban people. It doesn't. They don't stay overnight in hotels, casa particulars or Airbnb's. And they don't eat in paladars (independently owned restaurants).
Except for small sellers of t-shirts and maybe a few beers at La Floridita or Sloppy Joe's, no other individual Cubans benefit at all.
It's not sustainable tourism. It's State income.
To replace cruise ship revenue, the State must look at the bigger economic picture. It might look at other options for the beautiful, pristine Havana harbor.
Already periodic sailing regattas take place there. There's nothing more beautiful and ecologically pleasing than a harbor filled with colorful sails. Participants stay for days in local hotels and Airbnb's and eat in local restaurants.
Fishing charters should be operated out of Marina Hemingway. Thousands of sport fishermen and their families would love to visit Havana and also frequent the same local hotels and restaurants.
That way, the Cuban people benefit. And it's sustainable tourism.
The Cuban people are the warmest on earth. If they get to know you, they love you. And vice versa.
These are returns no cruise ship can offer.
Books by Michael Ritchie
0 comments