---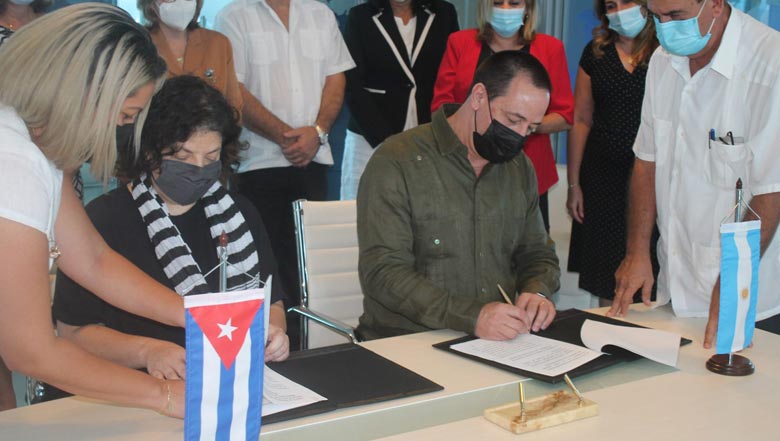 Cuba and Argentina will collaborate in health and biotechnology. The nations' Health Ministers, Doctors José Ángel Portal and Carla Vizzotti, signed a letter of intent at the head offices of the Center for Control of Medicines, Equipment and Medical Devices (CECMED) on Friday.
The letter of intent includes collaboration in the made-in-Cuba COVID vaccines and plans for vaccination in Argentina and Cuba and other nations in the Latin-American region.
In late April, Argentina's Foreign Minister Felipe Solá announced the possibility of collaborating with Cuba for financing the production of a Cuban vaccine.
Cuba's five COVID-19 vaccines are at different stages of research and testing, but two of them: the Soberana 02 and Abdala are in phase III clinical trials. Cuban scientists are confident with the results achieved to date and expect that 70 percent of the Cuban population will be vaccinated by August.
Minister Portal confirmed that once the clinical trials are completed, more vaccines will be available, "which will not only benefit Cuba but also other countries."
Argentina's Health Ministry will work directly with Cuba's Group of Biotechnology and Pharmaceutical Industries, BioCubaFarma.
The Argentinian Minister Dr. Vizzoti and Presidential advisor Cecilia Nicolini visited several locations in Havana this week to learn more about the progress in the development of the Abdala and Soberana vaccines and health intervention practices in at-risk groups. They also visited a clinic in Havana and spoke with volunteers and healthcare personnel.
Dr. Vizzoti praised Cuba's health system. "We know about their vaccines and the coverage they have, but we wanted to see it firsthand and support this historic health intervention," she said.
She also highlighted Cuba's willingness to support Latin America's access to vaccines. Talks between Argentina and Cuba have been ongoing, and the relations between the two nations are strong.
In late March of this year, Argentinian and Cuban officials met for discussions on the need to strengthen cooperation, Cuba's five anti-COVID vaccines and the possibility of alliances in vaccine production and technology transfer. The letter of intent signed yesterday
The strong ties between the two nations were highlighted back in December of 2019 when Argentina's President Alberto Fernandez and Cuban president Miguel Diaz-Canel met in Buenos Aires. At that time, the two presidents agreed to continue and expand the exchange of food and medicine between both nations.
Related News:
0 comments