---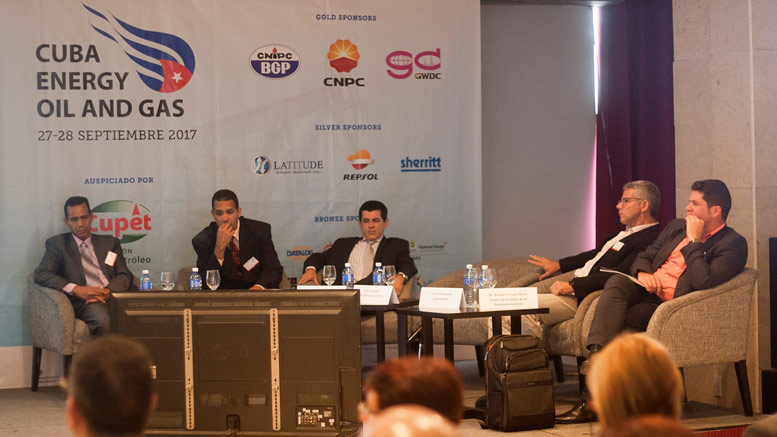 Last week's Cuba Energy Oil and Gas Conference (CEOG) was a stellar success for the oil industry in Cuba, and especially for Unión Cuba Petrolia (CUPET).  Scheduled to take place only two weeks after the devastation of Hurricane Irma, it was all systems go.  For CUPET, not even nature's wrath was going to stop the Cubans from assuring this very important conference went forward as planned.
Paul Gilbert, Event Director at Global Event Partners (GEP Events, organizers of the event) said that the Cuba Energy Oil and Gas Conference, "exceeded all of the steering committees expectation with attendees from over 80 companies, traveling from 25 countries all descending on Cuba to have one aim, to develop Cuba's offshore oil and gas sectors. It was a testament to CUPET for opening up and defining a clear message that they are looking to work with international experts from across the oil and gas value chain.  Once again, this was evident at Cuba Energy, Oil and Gas and we are delighted to have hosted the event so successfully."
Opening keynote speeches were delivered by Cuba's Ministry of Energy, CUPET senior executives, and the British Ambassador in Havana.  A Canadian lawyer from Gowling WLG Consulting gave an extremely insightful speech on doing business with Cuba.  Many more interesting presentations were delivered on the geological, environmental, legal, and business aspects of the oil and gas sector in Cuba.
Senior executives from CUPET and international corporations either currently doing business in Cuba or interested in entering the Cuban market gave presentations.
CUPET presented its new available blocks – both onshore and offshore for exploration as well as explaining the qualification process to become involved with the oil industry.
Peter Stickland, Melbana Energy's CEO gave an update on his company's exploration and potential of Block 9, an area just east of Varadero.  For the last several years, Melbana has been in Cuba.  The company will begin drilling operations next year.
The Conference was also one of the best networking opportunities for guests by virtue of the business matching services offered by GEP Events.
Contributing to the success of this conference were two 'add-ons' to the two day affair.  One was Houston attorney Felix Chevalier's hosted event, a US-Cuba Workshop followed by dinner at the five star Destino restaurant in Miramar.  The pre-conference workshop audience was attended not only by American business executives but also the CEOs of international corporations.
Mr. Chevalier said, "Companies from around the world, including multi-national corporations with a presence in the United States, seek to keep abreast of U.S. policies. They do so because the U.S. has previously implemented regulations that adversely affected foreign based companies trading with Cuba.
"Although there's an embargo restricting trade and travel by the U.S. against Cuba, there are exceptions and special licenses U.S. firms can utilize to trade with Cuba. Our workshop addressed those issues," he explained.
A second 'add-on' or 'bonus' for delegates was a field trip to the CUPET – Greatwall Drilling Company site in Matanzas.  CUPET and Greatwall Drilling's directors and engineers led the site visit and onsite presentations.  The field visit was followed by luncheon at the Kike-Kcho restaurant in the Varadero Marina.
The attending audience was global and included nationals from Ireland to Iraq, Australia, Canada, the United Kingdom, to nations of the Latin American Caribbean region and, of course, the Chinese.  Interesting to note, executives from some of the largest global oil corporations showed up, demonstrating Cuba is viewed as a serious contender.
The Melia Cohiba Hotel was able to clean up after Hurricane Irma and get on with the task of delivering an excellent conference location, marvelous buffets, cocktails, and attentive staff – reaffirming their position as one of the top conference venues in Havana.
CUPET is very pleased with the outcome of this two day conference.
Scenes from this year's Cuba Energy Oil and Gas Conference:
0 comments