---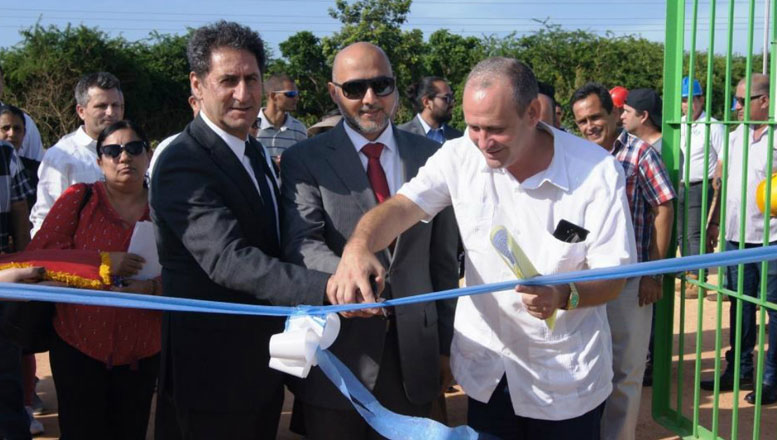 A new 10 megawatts (MW) solar park opened yesterday with the capability of providing electrical power to almost 7,000 homes. It will also reduce carbon emissions by 12,700 tons each year.
The projects, located in three different provinces, is in line with the Cuban government's renewable energy strategy for 2030 to reduce fossil fuels and increase use of renewables to 24%. Currently there are 65 solar parks across the Island. Another 15 solar parks are under construction to increase to 42 MW capacity by year end.
The $15 million project is supported by Cuba's Ministry of Energy and Mines, and funded by the Abu Dhabi Fund for Development (ADFD) and the International Renewable Energy Agency (IRENA). These organizations support developing countries' efforts to switch to clean energy to tackle climate change and implement the Paris Agreement.
The solar parks will generate a combined 10 MW of electricity and are located in Camaguey, Mayajigua, Venegas, and Cardenas in Matanzas.
Energy and Mines Minister Raúl García Barreiro said: "Not only has the funding from ADFD helped in achieving outlined national priorities but also helped in the completion of this transformative venture. The unique and important partnership with ADFD has aided in meeting the country's energy targets.
"Furthermore, the IRENA/ADFD Project Facility is a testament to the importance of cross-border innovative solutions in renewable energy. The 10MW grid-connected solar PV project will help in reducing greenhouse gas emissions and increase the share of renewables in Cuba's energy mix."
IRENA's Director-General Francesco La Camera stated the parks are a "successful testament" to multilateral cooperation.
"All this shows that Cuba is capable of planning, building and implementing projects of this magnitude, and shows that paradigms must be changed to reverse the effects of climate change for sustainable development. It's necessary to continue working with this type of energy," he said.
Bader Almatrooshi, ambassador of the United Arab Emirates (UAE) to Cuba, said the opening of the parks represented a milestone in bilateral cooperation to jointly tackle the negative impact of climate change.
This is another giant step forward for Cuba's Renewable Energy Strategy to 2030.
0 comments