---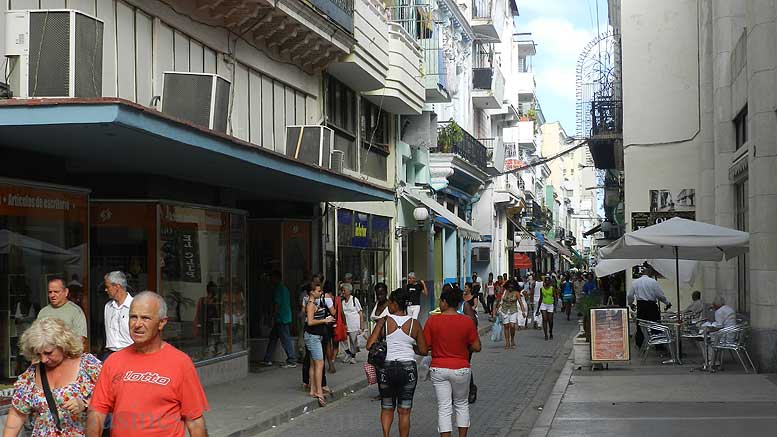 Status Update: Cuba US Relations
The one-year anniversary of major changes within Cuba US Relations just passed.  We take a look here at what was achieved and what was not and evaluate where things stand today.  No one can deny this has been a historical year of change, but how soon this change will trickle down to the people is more difficult to predict.
What set the ball rolling for change in the relationship between the US and Cuba was the December 2014 announcement by Cuban President Raul Castro and US President Barack Obama to restore diplomatic ties.  This announcement caught many by surprise.
American businesses are eager to do business in Cuba.  Some companies such as Air BnB, IDT, Netflix and Mastercard, unwilling to wait for the slow wheel of political progress have moved ahead establishing a presence and signing deals with Cuba.
In April, Presidents Obama and Castro met face to face at the Summit of the Americas in Panama.  This was the highest level meeting between the US and Cuba since 1959. As a result of this meeting, Castro and Obama agreed to pursue a new relationship but there were still roadblocks. Human rights and democracy issues, compensations, Guantanamo, the economic embargo and removing Cuba from the list of US state sponsors of terrorism still stood in the way of true change.
This year saw many advancements including an exchange of prisoners between the two nations and the US removal Cuba from the list of US state sponsors of terrorism.  US bank Stonegate, a commercial bank located in Florida and the Banco Internacional de Comercio in Havana signed a correspondent banking agreement in July.  The United States eased restrictions on remittances, Americans traveling to Cuba no longer had to obtain a government license to do so, and banking. US travelers are now able to use debit and credit cards in Cuba.
On August 15th, another great moment in history for Cuba US relations took place with both Cuba and the US opening embassies in each others capital cities.  It was another important symbol in a year of progress in the relationship between the two nations.
The greatest stumbling block to major progress and change remains the 50 year old American embargo against Cuba.  At the United Nations' summit of world leaders in September Raul Castro called the American embargo against Cuba,
"… the main obstacle to our country's economic development, while affecting other nations due to its extraterritorial scope, and hurting the interests of American citizens and companies," adding that "such policy is rejected by 188 United Nations members states that demand its removal."
In October the United Nations adopted a resolution to end the economic embargo imposed by the US against Cuba.  The United Nations has condemned the US embargo for the last 24 years.  Out of 193 members only two nations, the US and Israel, voted against the removal of the American blockade against Cuba.
More than obvious to any bystander, the major block to progress in the discussions between Cuba and the US is the American embargo.  Research polls show that most Americans are in favor of removing the embargo.  Recent polls show that 63 per cent of Americans favor renewed diplomatic relations and 66 per cent wish to end the embargo.  The 50 year old embargo continues to effect 11 million Cubans economically.  Political infighting is preventing the lifting of the embargo, frustrating American business interests.
In November Cuba held its annual Feria Internacional de La Habana (FIHAV) tradeshow, one of the most important trade fairs in the Latin American/Caribbean region. This was expected to be a trade show with a very dominant American business presence but it was not to be.  The American pavilion was difficult to find and only some 23 businesses were present at FIHAV.
Sensing a business boom in Cuba, numerous US business groups began to visit Cuba, meeting and attempting to forge new economic relationships. Over the last few decades, many countries have established economic ties and businesses in the country.  Canada and Spain have had long standing economic relationships with Cuba and have fared well.  China is one of Cuba's biggest export and import markets. While progress in the US – Cuba relationship has been in the American media spotlight, Cuba has forged ahead with diplomatic and trade relationship building with other nations and entities such as the European Union, Panama, South Africa and the United Arab Emirates.
In December, Cuba and the US began discussions on the compensations owed to both US businesses and Cuba.  Cuba claims economic damages caused directly by the US economic blockade in the amount of $833.755 billion USD.  The US is claiming $1.90 billion for confiscated businesses and personal property.  These discussions are very complex but they are now at least on the table.  There are no quick solutions.  Though this will take time to resolve, the talks will continue into the new year.
The year is ending on a hopeful note with the announcement of an agreement that commercial flights will soon begin between the US and Cuba.  Arrangements and set up could start in as little as three to six months.  More and more Americans are now visiting Cuba as tourists.  Cuba travel experts report that hotels are booked into the summer months to come.
MEASURING PROGRESS
Considering the usual speed of political change, one would have the impression that this has been a progressive year for Cuba US Relations.  In conclusion, it has been.  From the time of the initial announcements of Obama and Castro in December 2014, many positive steps  have been taken.  Cubans felt very hopeful that these changes would begin to show improvements in their standard of living.  But many are disappointed that the changes have not trickled down quickly enough to the average Cuban's lives.
Jobs and fair wages are still hard to come by.  Internet access is not universally available and telephone communications are still exorbitantly expensive for the average Cuban.  Cubans also struggle to shop and find food and basic necessities.  Ordinary household goods (such as shampoo) and appliances are far beyond the price reach of the average Cuban wage.
Telephone calls and internet access is still exorbitantly expensive.  The government and ETECSA have been expanding wifi areas of connectivity in Cuba but at two CUCs for one hour of connectivity, it is still unaffordable for the average Cuban who earns about 20 CUCs or less ($20 US or less) per month in wages.  In a country with two currencies, this is not enough to live on.
With predictions of economic growth of 3.5 to 4.0% for the upcoming year and recent debt restructuring by the Paris Club,  Cuba still needs foreign investment.  Infrastructure improvement and development is badly needed.  Access to water 24 hours a day, 7 days a week is still not available for some parts of the country even in areas surrounding the capital.