---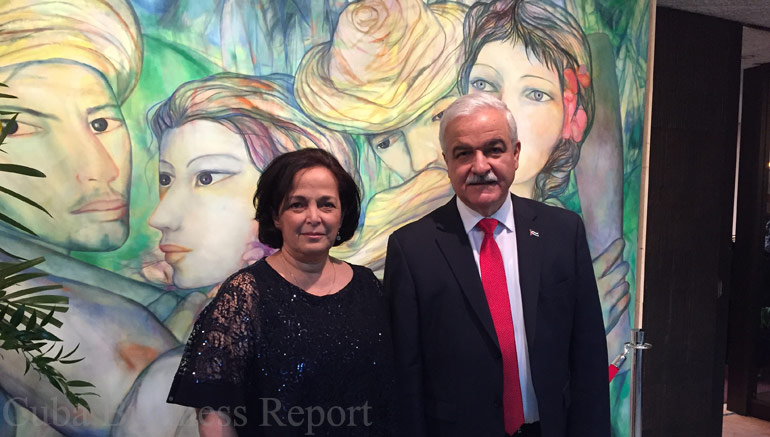 The Embassy of the Republic of Cuba in Ottawa hosted an event celebrating the 58th Anniversary of the Cuban Revolution and National Day of the Republic of Cuba last Wednesday.
His Excellency, Julio Garmendía Peña, Ambassador of Cuba to Canada and Mrs. Miraly González González, First Secretary of the Embassy, hosted the reception which was attended by more than 500 people.  Canadian government leaders, members of the Cuban diplomatic corps currently assigned to Canada, representatives from the business community, and the many friends of Cuba were guests of the Embassy.
Ambassador Garmendía spoke to reception guests of the achievements of Cuba and paid tribute to national hero, Fidel Castro, who recently passed away.  The Ambassador also talked of the official visit of Prime Minister Justin Trudeau to Cuba and the uninterrupted relationship that exists between the two nations.
Peter M. Boehm, once posted to the Canadian embassy in Havana and now Canada's Deputy Minister of International Development, Global Affairs Canada, and Senator Hon. Pierrette Ringuette, co-Chair of the Canada-Cuba friendship inter-parliamentary group both spoke of the bonds of the Canada-Cuba friendship.
In attendance were many Canadian members of Parliament, members of the Senate of Canada and ministers including Dominic Leblanc, Minister of Fisheries, Oceans and Coast Guard; Jean-Stéphane Bernard, Deputy of International Relations and Francophonie of Québec; David McGuinty, Chairman of the Committee of Defense and Security of the lower House; and Daniel Jean, National Security Advisor to the Prime Minister.
There was a strong presence, too, of representatives of the Québec business community.
The Chamber of Commerce and Industry Canada-Cuba president, Nancy Lussier, and vice president, Elias Hage, also attended the Embassy's national day celebration.