---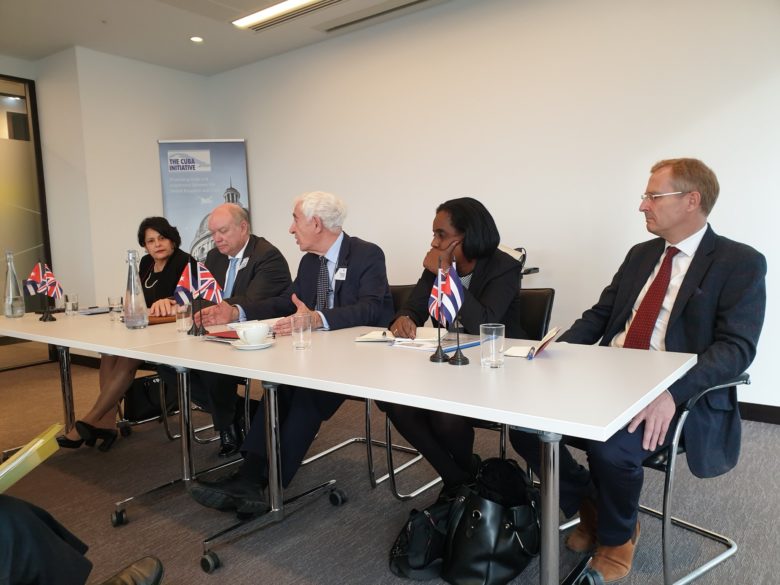 British investors met with Cuba's Minister of Foreign Trade and Investment Rodrigo Malmierca and other government officials at the headquarters of Spanish law firm Bird & Bird on Friday.
Also present at the meeting organized by the Cuba Initiative investment group were Lord David Triesman, member of the House of Lords of Parliament, his Excellency British Ambassador to Cuba Antony Stokes, Teresita Vicente Sotolongo Cuban diplomat, Sebastiaan Berger, CEIBA Investments Portfolio Manager at Aberdeen Standard Investments, and representatives of the diplomatic and commercial missions of Cuba.
The meeting was organized by the Cuba Initiative, a non-governmental organization founded in 1995. Minister Malmierca and Lord Triesman act as co-chairmens of the organization. The group met to discuss economic links and develop an action plan to move forward to increase investments between the two countries.
Recent moments of Cuban-British relationship were highlighted including the success of the official visit of President Miguel Díaz-Canel to London in late 2018, the Cuba Initiative meeting in Havana last June, and the British Royal Couple's visit in March of this year.
The two sides spoke of the difficulties posed by the United States embargo against Cuba, Cuba's strong interest in advancing foreign investment and the problem international banks continue to face in transferring payments to and from Cuba.
Malmierca said his government is "working to separate the State from the administration of public companies, and to give more space to the private sector." Source
Acknowledging the Cuba Initiatives group's conviction, Lord Triesman said, "we have the enthusiasm and the decision to advance this initiative, what we want to know is how we put them into practice."
Ambassador Stokes stated, "Our policy is still to promote economic relations (with Havana), and I believe that much has been done in recent months," adding that since 1996, the U.K. has held legislation that criminalizes the use of U.S. legislation in British territory, or against its citizens.
The British diplomat tweeted late Friday of the "… shared ambition to achieve more progress in several innovative projects Cuba / UK. You need a brave, transformational commitment."
0 comments