---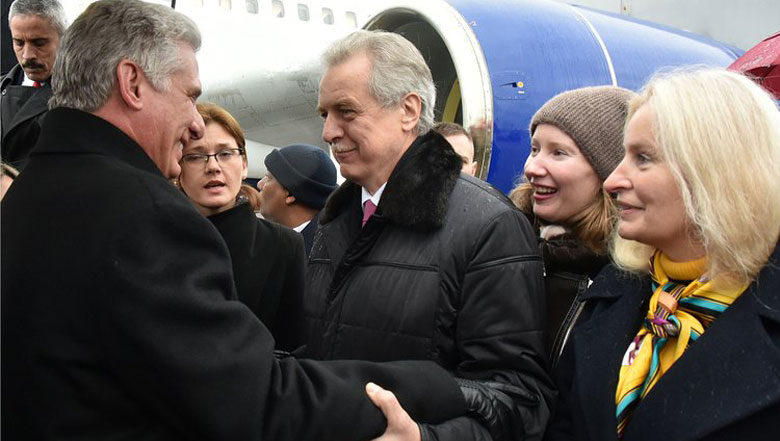 Cuba's President Miguel Diaz-Canel is in the Russian Federation for three days on the third stop of his official tour of Europe which included Ireland, Belarus, and Azerbaijan where he participated in the 18th Summit of the Non-Aligned Movement. He is meeting with government officials in the cities of St. Petersburg and Moscow with the goal of strengthening bilateral cooperation.
In St. Petersburg, Diaz-Canel met with the St. Petersburg mayor, Alexander Beglov, and the President of the Legislative Assembly, Viacheslav Makarov, to discuss building cooperation between St. Petersburg and Cuba.
The President then heads to Moscow.
After the discussions in St. Petersburg, he toured the Hermitage and Faberge Museums, the Piskarevskoe Memorial Cemetery and other historical sites.
In Moscow, Diaz-Canel will participate in a meeting with Dmitry Medvedev, the Russian Prime Minister, to explore further Russian-Cuban cooperation as well as the progress of the agreements signed during Medvedev's visit to Cuba earlier this month.
Miguel Diaz-Canel and Medvedev plan to conduct discussions on furthering bilateral cooperation in investment, trade, transportation, industry, agriculture, among other items.
The Cuban President will also meet with Russian President, Vladimir Putin. The two presidents will focus on the prospects for strengthening the Russia-Cuba strategic partnership and prime issues on the international agenda.
While in Russia, President Diaz-Canel will also meet with business people from various sectors and Cuban residents of the cities.
Over the past several years, the Cuba-Russia relationship has experienced significant growth. Top officials from both nations have exchanged a multitude of official visits, the most recent by Dmitry Medvedev in October and Foreign Minister Sergey Lavrov in July.
Russian tourism to Cuba is on the rise and is viewed as a very promising investment for Russians.
Bilateral talks have focused on the expansion of military-technical cooperation, joint oil exploration and production, and biotechnology cooperation.
Trade figures between the two countries are rising rapidly. Russian exports to the Island amount to $372.7 million, but the country's imports only amount to $15.2 million. There is a mutual interest in increasing Cuba's exports to the Russian market.
In 2018, Russia's trade with Cuba amounted to $387.9 million, an increase of 33.69% compared to the year before.
0 comments