---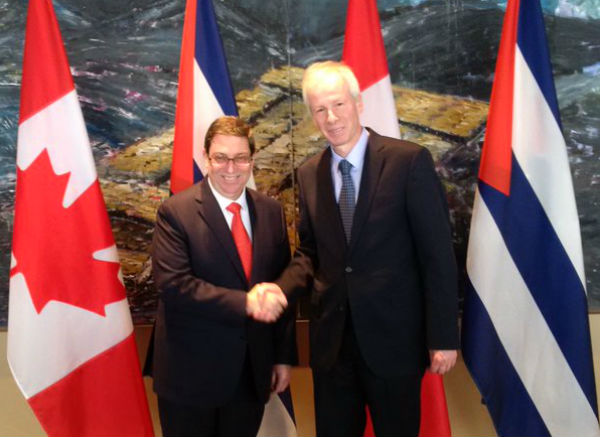 Minister Dion welcomes Cuban Foreign Affairs Minister
The Honourable Stéphane Dion, Minister of Foreign Affairs, met with Bruno Rodríguez Parrilla, Cuba's Minister of Foreign Affairs, on Monday, May 2, 2016, in Ottawa.
Ministers Dion and Rodríguez will explore new areas of bilateral collaboration. Issues to be discussed include renewable energy, local governance, cooperation in food security, strong commercial relations and human rights.
Minister Rodríguez is to meet with senior officials of the Canadian Government, which include the Minister for Immigration, Refugee and Citizenship, John McCallum, Vice Minister Assistant of the Ministry of Defence, Gordon Venner, and the President of the International Center of Research for Development (IDRC) Jean Lebel. He also held a working meeting with the Minister of International Development and la Francophonie, Marie-Claude Bibeau, and the leader of the Government in the Canadian Parliament, Dominic Leblanc.
Minister Rodríguez also held discussions with the speaker of the House of Commons and the Senate, Geoff Regan and George Furey. The other officials he met with included Elio Rodríguez Perdomo, Director of Europe and Canada, Ministry of Foreign Affairs, Julio Garmendía, Ambassador of Cuba in Canada and Barbara E. Montalvo Alvarez, Chief Secretary to the Minister of Foreign Affairs.Source
Canada and Cuba have had diplomatic relations for more than 70 years. A well-established, significant and growing commercial and investment relationship as well as a long history of development cooperation have helped improve the lives of Canadians and Cubans.
During his visit to Ottawa, Minister Rodríguez is also meeting with the Honourable Marie-Claude Bibeau, Minister of International Development and La Francophonie, the Honourable Dominic LeBlanc, Leader of the Government in the House of Commons, the Honourable George J. Furey, Speaker of the Senate, and the Honourable Geoff Regan, Speaker of the House of Commons.
"The ties between Canadians and Cubans have grown strong over the years and we will build on that foundation as we explore new areas of cooperation. Be it by exporting Canadian goods to Cuba or by being warmly welcomed in Cuba, Canadians take great pride in their long-standing, uninterrupted relationship with Cuba," Stéphane Dion said.
Quick facts:
Cuba is Canada's largest merchandise export market in the Caribbean and Central American region, and bilateral merchandise trade between the two countries was worth more than $1 billion last year.
Canada's development cooperation program in Cuba is well aligned with key Cuban priorities, including increasing food security and supporting sustainable economic growth.
Cuba is the third-most popular overseas destination for Canadians, and Canada is Cuba's largest source of tourists: 39 percent of tourists visiting the island in 2014 were Canadians.
Source:  Press Release of the Government of Canada and information source: Cuban Ministry of Foreign Affairs