---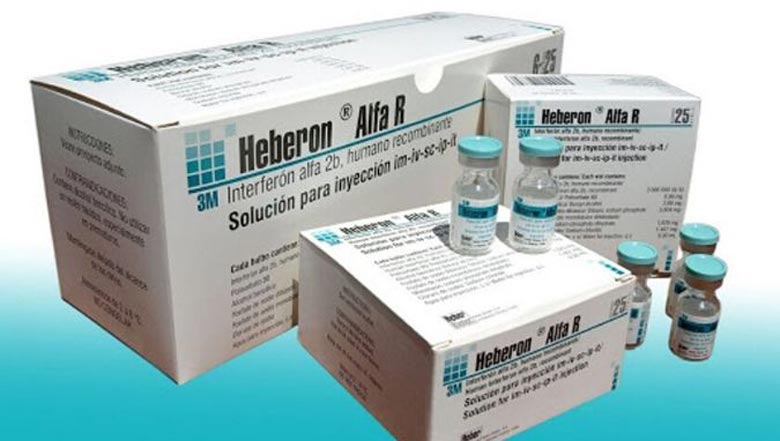 The Cuban media reports that Interferon Alfa 2b, a pharmaceutical drug made in Cuba has demonstrated effectiveness in the treatment of COVID-19 (coronavirus) patients. The drug is also being used in various other countries in the current pandemic.
According to the Cuban media, approximately 45 nations to date have requested Heberon Alfa R (the brand name) Interferon Alfa 2b pharmaceutical product in the battle against coronavirus.
The drug, used in combination with other antivirals, is currently part of the treatment protocol in Cuba. The Ministry of Health (MINSAP) has assured there is sufficient stock of the drug for the Island, even given "worst-case scenarios."
The drug is used in the treatment of other coronaviruses and viral infections such as SARS-Cov-2 and Hepatitis C.
Interferons are naturally produced by the body. In the case of COVID-19 infection, a virus-infected cell will release interferons causing nearby cells to heighten their anti-viral defenses. With COVID-19, the body's ability to produce interferon is hampered.
Interferon alfa 2b is manufactured in Cuba by the Center for Genetic Engineering and Biotechnology (CIGB) and also in China.
It is administered with the use of a nebulizer, a device that produces a mist inhaled into the lungs. Nebulizers are commonly used in the treatment of lung diseases such as asthma, cystic fibrosis, COPD and other respiratory disorders.
Cuba will have a variant ready for nasal use this week. It will be used by health workers for their protection on the frontlines.
On the Mesa Redonda television program yesterday, Dr. Gerardo E. Guillén Nieto, Director of Biomedical Research at the Center for Genetic Engineering and Biotechnology (CIGB) said,
"We now have Interferon as part of those contributions and we are currently evaluating the protocol with our researchers and with the Scientific Councils and experts of MINSAP, to begin this week the use of Interferon through the nose and to be able to extend it to all medical personnel as protection."
He added that the idea is based on a scientific theory of the capacity of Interferon to stimulate the innate immune response, in addition to the historical use of Interferon Alfa 2b against other viruses that have presented.
NOTE: This website does not provide medical advice, it is for informational purposes only.
From our Terms and Conditions:
The contents of the Cuba Business Report, such as text, graphics, images, and other materials created by Cuba Business Report, and other materials contained on the Cuba Business Report Site (collectively, "Content") are for informational purposes only. The Content is not intended to be a substitute for professional medical advice, diagnosis, or treatment. Always seek the advice of your physician or other qualified health provider with any questions you may have regarding a medical condition. Never disregard professional medical advice or delay in seeking it because of something you have read on the Cuba Business Report website.
If you think you may have a medical emergency, or have symptoms of COVID-19 or any other disease, call your doctor or 911 immediately. Cuba Business Report does not recommend or endorse any specific tests, physicians, products, procedures, opinions, or other information that may be mentioned on the Site. Reliance on any information provided by Cuba Business Report, Cuba Business Report authors, others appearing on the Site at the invitation of Cuba Business Report, or other visitors to the Site is solely at your own risk.
0 comments