---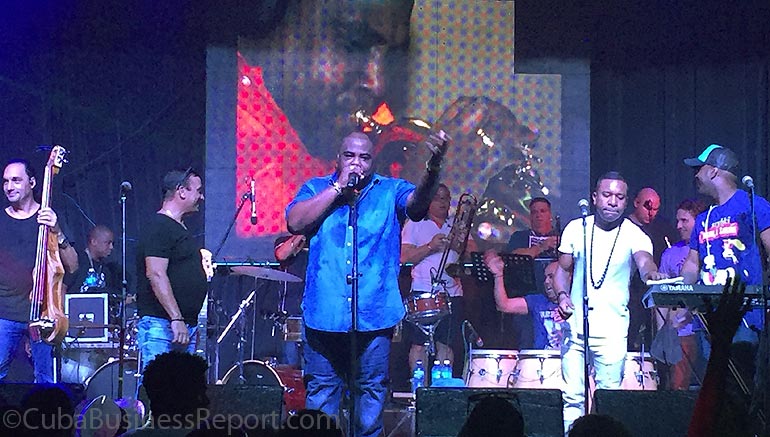 Alexander Abreu.  He is an international music star known for his voice, lyrics, compositions, and trumpet playing.  Abreu, Cuba's top musician, has played in clubs and performance venues around the globe.  From New York to San Francisco, Colombia, Peru, Paraguay, Spain, England, Germany, Belgium, Italy and Paris, he brings a very Cuban fusion of salsa, jazz, funk and Afro-Cuban music to his admiring audiences.
Cuba is known for its contributions to the world of jazz music.  The influence of Cuban music in the emergence of Latin jazz, a fusion of jazz and Cuban music began in the 1920s.  The earliest form of Latin jazz is Afro-Cuban jazz. Afro-Cuban Jazz is a combination of improvised jazz blended with the rhythms of Cuba and Africa.
In the 90s, however, this genre of music was faced with a younger generation embracing new trends in music such as hip hop, Cubatón, and Reggeaton.  The trend was possibly a threat to diminish the Cuban passion for timba bands.  Abreu sought to turn this around with the release of his first album "Haciendo Historia." The first track on the album, 'Resumen De Los 90s,'  ('Summary of the 90s') composed and sung by Abreu, aimed to recapture the greatness of Cuban music of the 90s and whet the appetite with the desire for more of it.  As his fan base increases internationally, one can see he has succeeded.
In an interview with Timba.com, Abreu said, "I feel like I am defending Cuban music…really, I feel like one of the great crusaders of Cuban music. Because what is happening with Havana D'Primera is basically the recovery of music from the 1990s, a great period for music here in Cuba that had been lost to some degree."
Alexander Abreu – probably Cuba's most famous jazz salsa star, realized his talent in music at a young age.  By the age of 10 he had learned to play the trumpet. He then enrolled for music lessons in a small conservatory in Cienfuegos. He advanced his studies at Escuela Nacional de Arte (ENA) where he graduated in 1994.
Abreu joined Paulo FG Y Su Elite and played the trumpet for six years. He recorded with Isaac Delgado, Klimax, Manolín, Pachito Alonso, Los Van Van, Rivero and Irakere among others. He was ranked the "Best Trumpet Player in 2000" by Timba.com. The following year, Abreu won a Latin Grammy Award for his input in compiling the song "La Rumba Soy Yo."
In 2008 Alexander Abreu founded his jazz timba band, Havana D'Primera. a group of some of the most talented musicians in Cuba. He is also the Musical Director for the band. His vast experience in music gave him the chance to select the best musicians he knew. The band members include Amaury Peréz, Bernardo Antonio, Bruno Rogelio, Carlos Alberto, Carlos Luís, Harold Díaz, Rodríguez Milán, Aníbal Zurbaran, Aníel Tamayo, Keisel Jiménez, Orlando Jesús, Raúl Tobías, Enrique Luís, Guillermo Del Toro, Uyuni Martinez, and Yosvel Alexei.
The band's style is timba which fuses Salsa music with the genres of Cuban Pop and Afro-Cuban folk music. Havana D'Primera integrates Timba with Jazz, Calypso, and various Caribbean sounds. The band has borrowed a lot from Puerto Rican music, and it incorporates the Cuban style.
Abreu has also tried his hand at acting.  In 2012, he played a role in the film '7 Days in Havana.' His acting was widely praised but he has not pursued acting since then.
Alexander Abreu – Cuba's jazz-salsa star is arguably the best Cuban trumpeter/composer/singer of his generation. When not on a world tour, Abreu and Havana D'Primera play the regular Tuesday matinees at Casa de la Musica in Miramar.  If you plan to experience a night of the music of Alexander Abreu, arrive early enough to find a space in the nightclub.  His ability to whip his audience into a kind of wild dance frenzy by the end of the night leaves very little standing room for latecomers.
Watch Alexander Abreu live at Casa de la Musica: