---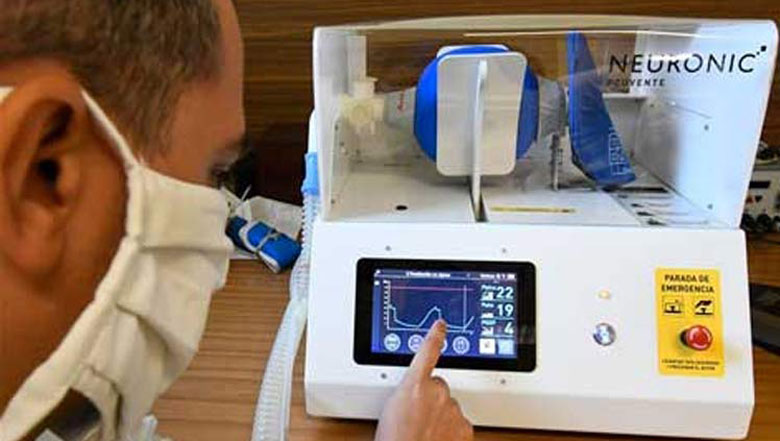 Cuban President Miguel Díaz-Canel met with a group of scientists and specialists on December 3 for a presentation of Cuba's latest advances in medical equipment and technology, paving the way for technological sovereignty.
Cuba's advances in health technology equipment include the PCUVENTE, for emergency ventilation; the VENTIPAP, a non-invasive ventilator; the VIGILVENT, a tomograph for intensive care patient monitoring; a high-performance pulmonary ventilator, infrared thermometers, and disinfection lamps.
President Diaz-Canel confirmed that the first emergency ventilators were already in production and emphasized that this was "news" for technology sovereignty, saving imports, and strengthening the capacity to deal with the Covid pandemic and other health matters.
Dr. Ernesto Velarde Reyes from the Center of Neurosciences said the PCUVENTE is authorized for emergency use by CEMED, the regulatory body, after successful clinical trials in animals and humans.
"Right now, we are in production," said Dr. Velarde. The doctor praised the participation of many doctors from several hospitals, industrial professionals, designers, and self-employed workers.
The doctor also spoke about the VIGILVENT and VENTIPAP projects. The VIGILVENT is a thoracic electrical impedance tomograph that injects electrical currents into the chest, making it possible to visualize the parts of the lung that are full of air and monitor a patient during intensive care.
It is planned to produce it for use in Cuba and for export to overseas markets.
The high-performance ventilator project developed by COMBIOMED is considered one of the most complex pieces of equipment developed by the company. COMBIOMED has a wide catalog of medical equipment already in production.
According to Dr. Arlen Lemes Fernandez-Singler, a specialist at COMBIOMED, it was developed for use in the support of intensive therapies.
The Group of the Electronics (GELECT) also worked on the pulmonary ventilator, the ultraviolet disinfection systems, infrared thermometer and the body temperature scanner projects.
The first prototype of the pulmonary ventilator is already completed and guarantees two modes of automatic ventilation (Forced and Assisted). It is ready to produce the first five units this year. Testing will be carried out in January 2021.
The ultraviolet disinfection system has completed the microbiological tests with good results and will be presented to CECMED for approval.
Related News:
0 comments