---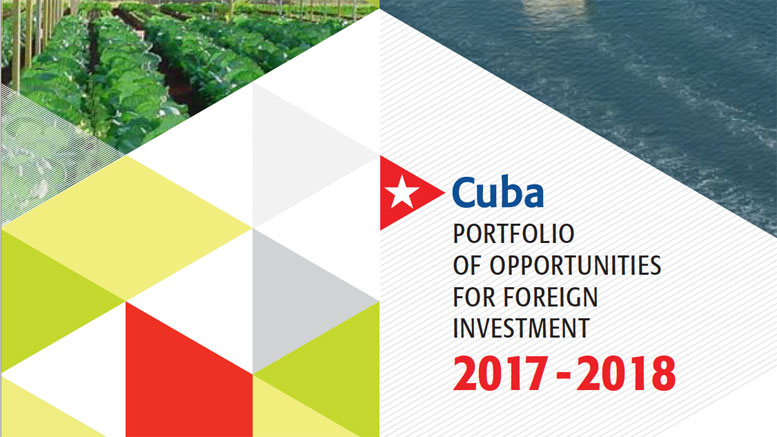 Cuba's new Portfolio of Opportunities for Foreign Investment 2017-2018 was presented by Rodrigo Malmierca Díaz, Minister of Foreign Trade and Foreign Investment, on the second day of the Feria Internacional de la Habana (FIHAV) 2017.  This year's Portfolio contains a total of 456 projects.
Tourism, agriculture, food, sugar, renewable energies, construction and biotech and health are some of the usual projects in each year's portfolio.  This year, however, there's some interesting additions in the way of culture and finance (insurance).
Malmierca also updated the audience on the deals in progress.  He said, "We have signed 30 agreements so far this year… There are another 80 negotiations in progress, of which 15 are nearly completed, and we may sign some before the end of the year."
These 30 agreements include 16 ventures, 11 with 100 percent foreign ownership, and 14 administrative and production agreements. For the most part, the investments are focused on the popular tourism and energy sectors.
For the last two decades, foreign direct investments (FDIs) have averaged in the hundreds of millions of dollars.  However, the Cuban government says it requires a minimum $2 billion of foreign investment annually to continue meeting its targets. The projection is a part of a series of reforms identified by the government to update the Cuban economy.
There are a few roadblocks to investing in the Cuban market.  Negotiations can be a notoriously slow process requiring a certain degree of patience.  Malmierca said the country is working to overcome these obstacles which he describes as a lack of experience among Cuban negotiators and the problem of the dual monetary system.
For the foreign investor, Cuba's market has been called a "paradox" by at least one expert who says it's, "one of the least 'investor' friendly countries but the most attractive market around."  One only needs to look at the many international corporations already with a strong foothold on the Island.  Nobody's whining and complaining about a lack of profits and, they're in there for the long term.
Summary of Investment Opportunities:
The following is a summary of investment sectors from the new Portfolio of Opportunities for Foreign Investment from the recent press release at Engage Cuba.
Mariel Special Development Zone: Over $1.7 billion for developing the Special Development Zone at the Port of Mariel, soon to be the largest port in the Caribbean. Projects at Mariel are available in the agriculture, biotech, industrial, construction, and real estate sectors.
Agriculture: $2 billion (including $380 million in ZED Mariel) for agro-industrial projects for increasing food production, encouraging sustainable development, and replacing food imports.
Biotech & Health: $850 million (including $815 million in ZED Mariel) to promote strategic partnerships in drug manufacturing and the creation of new biotechnical products. Cuba also seeks to develop its medical and health service exports.
Industrial: $6.5 billion ($439 mil in ZED Mariel) to promote projects to modernize Cuba's industrial capacity in order to meet national demand and generate new exports.
Energy: $513 million to create, broaden, and modernize production capabilities in energy, particularly in wind, solar, biomass, and hydro energy sources.
Transportation & Infrastructure: $371 million (including $72 million in ZED Mariel) to modernize roads, railways, maritime ports, and airports to accommodate both mass transit and new cargo shipping routes. Cuba also seeks to further develop its hydraulic infrastructure.
Tourism: $898 million for building new hotels and tourist facilities and modernizing existing ones, as well as diversifying the management of tourist facilities owned by foreign companies.
Business: $22 million to develop wholesale business by recruiting advanced managerial methods and market techniques, new technology, and financial resources.
Banking: $30 million to gain access to foreign capital, international markets, external funding sources, and new banking techniques.
Download Cuba's Portfolio of Opportunities for Foreign Investment 2017 – 2018 here.
0 comments