---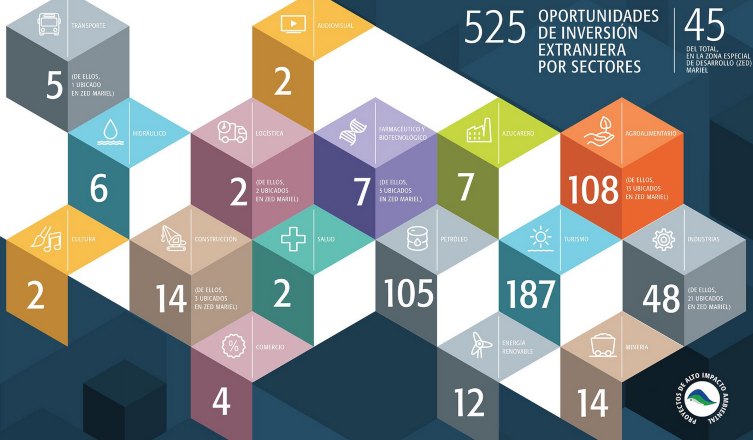 Cuba's Portfolio of Opportunities for Foreign Investment 2018 – 2019 contains 525 projects in 16 economic sectors, 45 of them located in the Mariel Special Development Zone (ZEDM). These projects total more than US$11.6 billion.
Foreign Trade and Investments Minister Rodrigo Malmierca stated at the last Havana International Trade Fair (FIHAV) 104 projects already launched had been removed and others have changed their scope or focus. Other investment projects not included in the new package were those currently under negotiation.
Malmierca said in 13 other cases, the proposed amounts had been adjusted following the results of new feasibility studies and the updating of industrial regulation, emphasizing the need to develop productive chains.
The new investment projects are located throughout the Island and 45 of these are in the ZEDM.
The investment portfolio contains 168 new projects related to cattle farming, food processing, light, chemical, metallurgical industries, tourism, and mining had been included in the updated portfolio.
There are the greatest number of opportunities in the ever-popular booming tourism sector – totaling 187 projects.
Malmierca also explained at the FIHAV there was special emphasis on transportation infrastructure including opportunities at the country's airports, ports with strong emphasis on the railway transportation.
There have been some new Cuban efforts to streamline the evaluation process of new investments with the creation of a "one-stop shop" for investor approval and document submission. It is expected to be in operation mid-2019. The one-stop shop is already in progress at the ZEDM.
"Although it is less than what we need, foreign investment in Cuba is growing despite the economic, commercial, financial blockade. Our model of sustainable development is being transformed, and to do so, our government defends and includes international economic relations," said Malmierca.
"We are committed to supporting all those interested in establishing new businesses. To do so, we have prepared a new portfolio, more diverse in composition in terms of activities and sectors.
The new portfolio of opportunities contains 69 more projects than in the 2017-2018 Portfolio.
Download it here: (only available in Spanish 26.02 MEG)
0 comments