---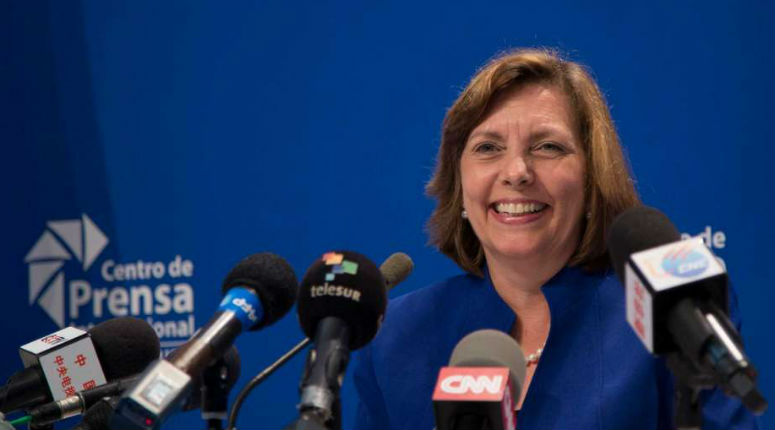 Havana's top diplomat, Josefina Vidal, praised the United States' President Barack Obama's trip to Cuba in March.  At a press conference she stated that the visit had created progress in the advance of relations between Cuba and the U.S.  in the areas of agriculture, medicine and law enforcement.
There have been agreements at the third Cuba-US Bilateral Commission in Havana – on an agenda for the remaining time that Obama is in office.  This will include more official trips by top-level government representatives with the goal of reaching new agreements on health, agriculture and law enforcement.
"We believe the visit was an additional step forward in the process of moving toward an improvement in relations, and that it can serve to add momentum to advance in this process, which is in both nations' interest," she stated the press conference.
The third Cuba-US Bilateral Commission has established a road map for talks over the rest of this year, which would include more high-ranking official visits, said Josefina Vidal,
Ms Vidal described the agenda as, "… quite ambitious."
The US State Department said "both governments recognized significant steps made toward greater co-operation in environmental protection, law enforcement, civil aviation, direct mail, maritime and port security, health, agriculture, educational and cultural exchanges".
Also discussed at Monday's meeting were the prospect of future talks on human rights and American property compensation claims.
Although Ms Vidal commended the recent agreements on environment, postal service and commercial flights, she said the continuing US trade embargo on Cuba had made progress on business ties more difficult.
Ms Vidal said the US trade embargo, which was imposed more than half a century ago, still effects Havana's relations with the US and other countries.
The Cuban delegation reiterated the Cuban government's willingness to continue advancing the US-Cuba relationship over the coming months but demanded the U.Ss remove the  economic embargo as a condition for fully normalizing the relationship.
"There are still significant restrictions that limit US exports; very few Cuban products can be imported into the US and there are no normal banking relations between both the countries," Xinhua news agency quoted Ms Vidal.
Foreign investors also agree the embargo is the main obstacle to doing business in Cuba.
The Cuban delegation also confirmed Cuba's demand for the return of the of the Guantánamo Naval Base.
Ms Vidal said, "When you look at the polls, the majority of the American population and the Cuban American community are in favor of the normalization of relations… So I expect their opinion will be taken into account."
Ms Vidal also hopes the next U.S. president will "listen and pay attention" to the majority of US citizens who want the restoration of normal relations and the removal of the embargo.