---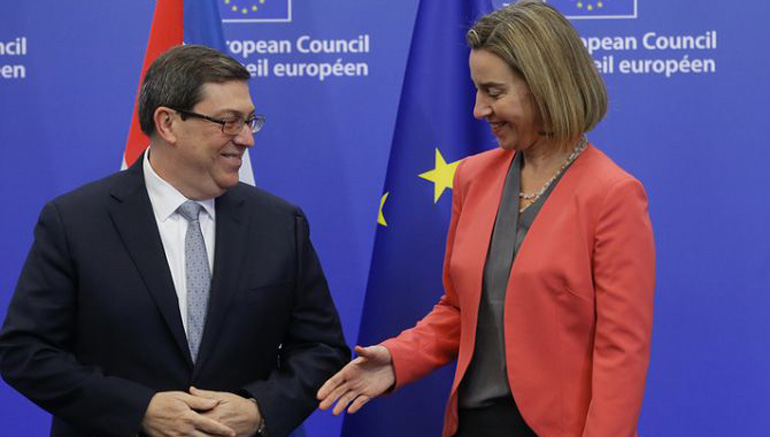 On Monday, the European Union and Cuba signed an agreement for closer ties.  In doing so, the EU also said that U.S. President-elect Donald Trump would have no effect on the future relations between the EU and Cuba.
The EU-Cuba accord establishes the base for future ties between Cuba and Brussels.  It supports economic development, democracy promotion and human rights in Cuba.
EU foreign policy chief Federica Mogherini said in the presence of diplomats representing the EU's 28-nation membership and Cuban Foreign Minister Bruno Rodriguez, "This is a historic day, we've turned a page. Today we're starting to write together a new chapter."
Foreign Minister Rodriguez said the priority would be to develop the Cuban economy, but he also added that the  "one major obstacle to trade relations between the EU and Cuba – the U.S. economic and financial blockade."  He also said, "We'll have to see how things develop. But we very much hope that relations between the European Union and Cuba will continue to grow and enrich both sides."
Mogherini said the accord is the result of a long process and that Trump's inauguration in January "will not affect in any way relations between the European Union and Cuba."
She also emphasized, "the European Union has raised concerns about the extraterritorial effect of U.S. sanctions on Cuba. We will continue to do so because we believe that this is not only in the interest of the island and its people – all of them – but most of all in our case, it's in the interest of Europeans to tackle this issue."
Cuba estimates the total cost of the 55-year-old embargo at $125.9 billion, and at $4.6 billion last year.
Before the new accord can be entered completely into force, it must be ratified by national and regional parliaments in all EU member states.  However some member states have decided to provisionally apply parts of it immediately.