---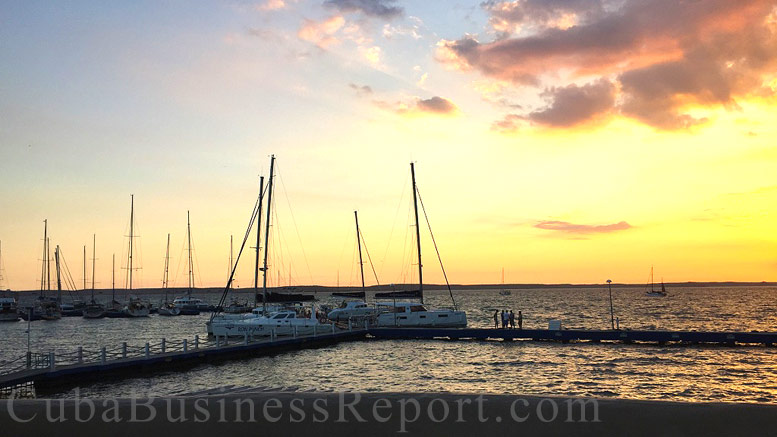 Marlin S.A. Marinas y Nautica own the marinas in Cuba.  Marlin SA is seeking foreign investment partners to expand and/or renovate the marinas and improve the attached marina services.  The five projects listed in Cuba's  Portfolio of Opportunities 2016 – 2017 include the marinas at Santiago de Cuba, Trinidad, Cayo Guillermo, Isla de La Juventud and Guardalavaca.  These marinas are located in high traffic tourist areas.  Some of these locations also have real estate developments planned in close proximity to the marina.  The investment plan is in line with the Marlin Strategic Development Plan for the years 2015 to 2030.
Cuba's Marinas:
Marlin Marina Hemingway has the capacity to facilitate up to 400 vessels.  The Hemingway Fishing Tournament and the Regatta run by the Hemingway International Yacht Club each year, attract an international crowd.  The only hotel currently operating at the Hemingway Marina is the all inclusive Hotel Acuario.  It is being renovated building by building.  Rumor has it that a Chinese company will be constructing a luxury hotel here, but this cannot be confirmed as of yet.  At present, the Marina Hemingway offers three channels with 210 berths.
Melia Varadero Marina – is one of the largest, highly developed marinas of Cuba.  It is a stellar example of what is possible in an investment partnership with a Cuban business.  There are 1,200 docking facilities for yachts/boats of small to large size, a five star Melia hotel – the Melia Marina Hotel, a well developed shopping village with restaurants, bars, grocery stores, a spa etc.  The Spanish Melia hotel chain is the joint investor in this very successful Cuban marina project.
Marina Cienfuegos is a developed marina with nearby hotels, restaurants, bars, (Club Cienfuegos – owned by the Palmares Group), swimming pool, recreation park with mini golf, go karts and dodge 'em  cars and boats at the Club.  Dream Yacht Cuba Company offers yacht rentals and charters.  Cienfuegos as a destination has immense appeal as a seaside town with historical attractions and architecture as well as plenty of accommodation in the way of hotels and casa particulars.
Marina Joint Ventures:
Marlin Marina Santiago de Cuba in the Santiago de Cuba bay is looking for foreign investors money to expand the existing marina.  Santiago de Cuba has been very popular with tourists over several decades and is predicted to become a high growth destination.  The Marina Santiago de Cuba today offers berthing for 20 boats, but the goal is to increase it to accommodate 200 berths.  There is an existing hotel at the Marina Santiago de Cuba and a planned real estate development in the vicinity.




The Marina is seeking $20 million US for a services management contract.  The anticipated returns of a joint venture with Marina Santiago de Cuba are predicted to be in the range of $2.5 million annually at an 80% occupancy rate.
The Marlin Trinidad Marina on the Ancon peninsula is seeking foreign investment participation of $10 million to expand the 200 berth marina and its services.  Trinidad is a popular tourist destination because of its historical importance and architecture.  There are plans to build a real estate development in the vicinity of the Marlin Trinidad Marina.   The outlook for earnings on the $10 million investment could be as high as $3 million a year at an occupancy rate of 80%.
Marlin Guardalavaca, Banesmarina, in the Bahía de Banes in the Guardalava resort area on the east coast has been a very popular resort destination since the 1980s.  This joint venture with foreign investors is seeking $5 million USD, with expected revenues of $2 million US per year at an 80% occupancy rate.  The joint venture marine project will build a 100 berth marina with marina facilities.  A nearby real estate development is also planned.
Siguanea Marina on the Isla de la Juventud in the Siguanea Cove is another marina open for investment with the Marlin SA group.  The Isla de la Juventud is second largest island of Cuba and the seventh largest in the Caribbean.  The Isla de la Juventud offers some of the most spectacular unspoiled white sand beaches with aqua marine waters, excellent diving opportunities and a national park.  There are approximately 12 hotel resorts on the Isla.
The Services Management contract is seeking a financial investment of $6 million USD to 
expand the marina and dredge the entrance and cove.  Today, there are 20 existing berths at Siguanea Marina but the joint venture is to enlarge the Marina to accommodate 100 boats.  The project also includes renovations to existing marina facilities.  This venture is projected to return $2 million USD annually at 89% capacity.  There will also be fishing and diving services at the Siguanea Marina.
Marlin Cayo Guillermo Marina in the Jardines del Rey Resort area is another joint venture offering a services management contract with financing for investors.  Marlin SA is seeking an investment of $5 million USD.  The Marina is intended for use as docking facilities on Cuba's north coast and long term mooring for Caribbean boat owners.  High end tourism development in the Jardines del Rey is part of the foreseen market.  The anticipated return on investment is predicted to be $2 million USD annually at an 80% occupancy rate.
Other Marinas in Cuba:
Marlin's Tarara Marina is located in the town of Tarará, in the Playas del Este of Havana.  Tarará offers houses and villas for rent, two public swimming pools, and a pleasant beach.  There is a restaurant, bar and shop on the Tarará Marina dock.  The place is almost screaming for visitors and boats, but without any promotion or publicity, how could people even know about the marina?
Marlin Marina's nautical bases at Cayo Largo, Colony,  Jardines de la Reina, and Santa Lucía do not have any joint venture projects available as of this publishing date.
0 comments