---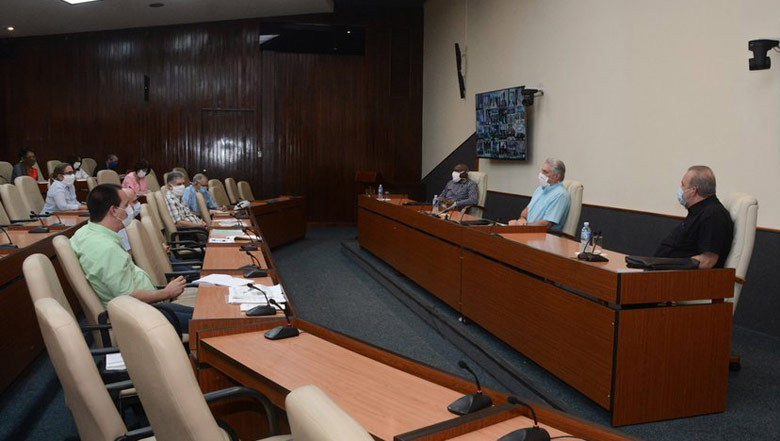 The Council of Ministers has approved the adjustment of this year's Economic Plan in response to the effects the COVID-19 pandemic has had on the economy.
The arrival of the pandemic in Cuba over the last two months has shown how much social investment policies can be impacted and creates unexpected challenges.
In the months leading up to the COVID-19 pandemic, Cuba was already facing a serious escalation of the United States' economic sanctions with the goal to strangle the Cuban economy, access to fuel and foreign currency.
The government has been working on the implementation of measures to minimize the negative effects of the pandemic and maintain the sustainability of the country's economy.
President Miguel Díaz-Canel, Prime Minister Manuel Marrero, Deputy Prime Minister and Minister of Economy Alejandro Gil were present in the discussions to protect the economy.
The official newsite Granma reported that export protection, food and pharmaceutical production would be prioritized and energy conservation adjustments will be strengthened.
"In the midst of the economic downturn and global uncertainty over the COVID-19, we have to plan resources well and prepare for recovery, with measures adjusted to the context we are facing," the Deputy Prime Minister Gil said.
Cuba still imports about 80% of its food. Plans to boost agricultural production of rice, beans, plantains, corn, sweet potatoes, eggs, pork, cattle, animal feed, and aquaculture are in the works.
According to Minister Gil, Cuba is facing serious damages in foreign exchange income for this year, specifically in tourism, airport services, consular receipts, and others areas, as a result of the pandemic.
He added, "An economy with zero tourism and an increase in the blockade cannot continue working normally and nothing happens."
"It is about guaranteeing the vitality of the country, feeding the population and that the economic impact is absorbed with the least possible social cost; that we distribute this burden among all Cubans in order to move forward," the Minister said.
During the meeting, government officials also prioritized key industry sectors for the economic plan of 2021 including exports, national production, agriculture harvest, the private sector, and foreign investment, and others.
President Díaz-Canel pointed out the necessity of a workforce to continue food production activities, relocating workers, if necessary, to where they are needed most. Some workers have already been relocated to the production of food, mostly in agriculture, work in isolation centers, vacant positions in the Public Health system, as well as in the area of research and care for vulnerable people.
0 comments