---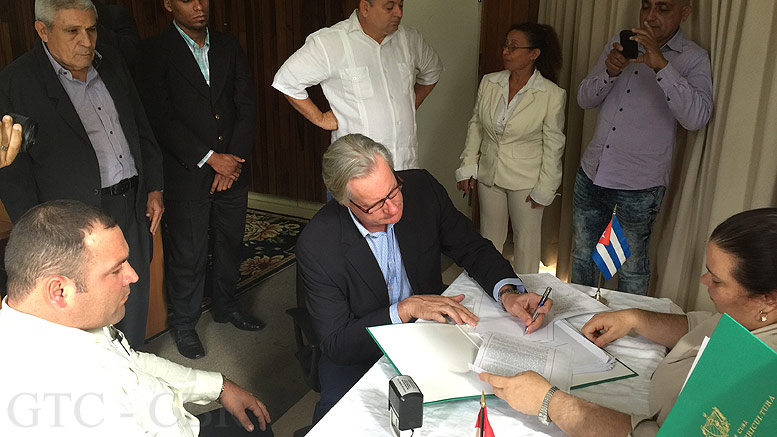 Groombridge Trading Corp, (GTC) has signed an International Economic Association Agreement with Empresa Agro Forestal Las Tunas (EAF), part of the Ministry of Agriculture of Cuba (MINAGRI).  The deal is the first foreign deal signed by the Ministry.
Groombridge Trading Corp, a Canadian Company, is involved in trade and investing in Cuba, selling machinery, equipment and food products to the tourism sector.  GTC is also engaged in agricultural projects with the Ministry of Agriculture and other partners.  The Company also exports rum and charcoal to Europe and Canada and owns 5 per cent of Cuba Mountain Coffee (CMC).
The agreement was jointly developed between GTC and EAF with the assistance of MINAGRI.  It has received the necessary approval by the relevant Cuban authorities. The deal has a ten year duration and is extendable by mutual agreement.
Under the agreement GTC will invest US $4.5 million to provide tools, machinery, tractors, kilns and equipment to enable the efficient cutting of the shrub "marabu."  The marabu will be collected and transported to a plant which will be jointly built and operated by GTC and EAF.  The plant will process the marabu into premium quality charcoal, activated carbon and other added value products for export to North America, Europe and the Middle East.
The plant will also produce electricity and surplus amounts will be sold to the grid. Construction of the plant is expected to begin in the second half of 2017 with production to commence in the first quarter of 2018.
The business operation will employ some 100 Cuban workers and will clear land which will be returned to economic use.
Marabu (the African sickle bush) is an invasive shrub that occupies land that was previously devoted to sugar cane production and ranching. The marabu is currently estimated to cover in excess of 800,000 hectares of land.
Mr. Murphy told Cuba Business Report that the deal was approved and took three years of development.   He looking forward to the prospect of clearing the land of marabu and returning it to original economic use.