---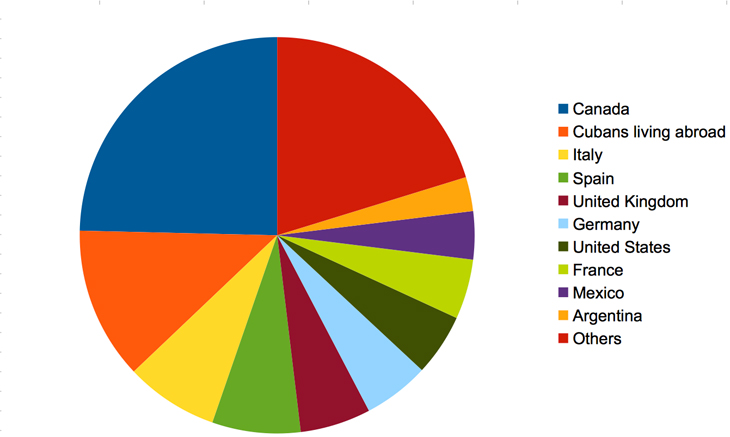 Tourism Statistics for Cuba
According to the Cuban Official National Statistics and Information Office (ONEI), the Cuban tourism sector earned more than 1.2 billion dollars in the first half of 2016. This represents a 15% growth compared to the same period in 2015.
The ONEI statistics report that hotel accommodations, restaurants, transportation and tourism attractions are major contributors to the sector. All figures are based on data from the Ministry of Tourism state-owned facilities. 

Cuba's emerging private entrepreneurs which operate casa particulars (rooms for rent), housing rentals and restaurants were not included in the ONEI report on tourism.
As at the end of September, 2016, the tourism industry numbers reached an all time high of three million tourist arrivals. The increasing number of tourists places pressure on the need to increase hotel construction and renovation. Government infrastructure targets include the construction of 108,000 new hotel rooms by the year 2030.
Canadians still represent the greatest number of tourists visiting Cuba. The Cuban expat community living abroad represented the second largest number of people visiting the Island. Germany, France, Italy, U.K., Mexico, Argentina and Spain also send a massive number of tourists each year. There have been significant increases in the number of visitors from Poland due to the availability of new flights from that nation.
Year over year data shows there has been an increasing number of American visitors due to the United States government easing travel restrictions somewhat. However, Americans must travel under certain conditions determined by U.S. regulations, unless they travel unofficially from another country such as Canada or Mexico. Unfortunately, to date, Americans are not permitted to travel to Cuba for the sole purpose of tourism.