---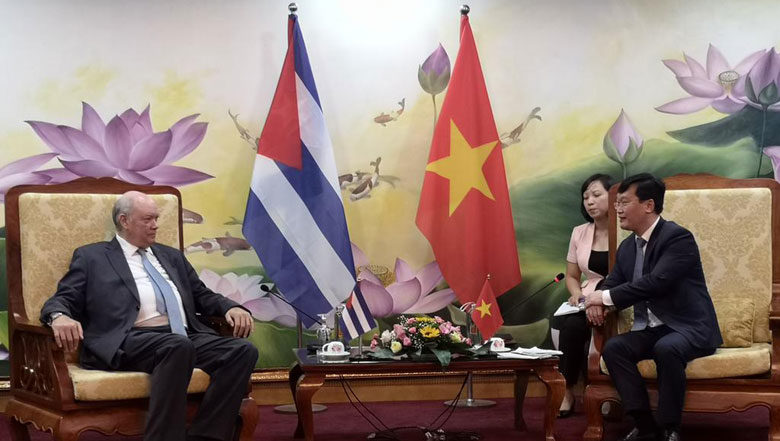 Cuban government officials have returned to Hanoi for the 37th Session of the Intergovernmental Commission. The trade-focused meeting coincides with the 74th anniversary of the Independence Day of Vietnam.
In Hanoi, Cuba's head of Foreign Trade and Foreign Investment, Rodrigo Malmierca, was received by the Prime Minister of Vietnam, Nguyen Xuan Phuc and Deputy Minister Nguyen Duc Trung.
Minister Rodrigo Malmierca and Vietnamese Minister of Construction Pham Hong Ha are leading their corresponding delegations as co-chairs of the latest Commission.
Vietnamese and Cuban experts reviewed the possibilities of increasing bilateral trade and cooperation prior to the start of the meetings between the two countries.
Three commissions were established for analysis: one will focus the following industry sectors: construction, banking, finance, investments, transportation, communication, education, culture, sports, and tourism; the second: agriculture and fishing; and the third: science, technology, biotechnology, and health.
The results of the commission established the basis for the structure of the discussions to follow.
The Cuban minister has held a series of working meetings with the Ministry of Planning and Investments and other Vietnamese authorities.
In addition, Mr. Malmierca met today with Deputy Minister Nguyen Duc Trung, from the Ministry of Planning and Investments of Vietnam and also Nguyen Thi Kim Tien, the Minister of Health to discuss expanding cooperation in the health sector.
Vietnam is Cuba's second most important trading partner in Asia and ranks tenth global trade partner. The two nations share strong bilateral relations.
Trade between Vietnam and Cuba currently stands at approximately US$300 million. The two nations hold a mutual goal to increase trade figures to US$500 million in the short term.
Currently, there are more than 100 Vietnamese companies doing business with Cuba.
0 comments