---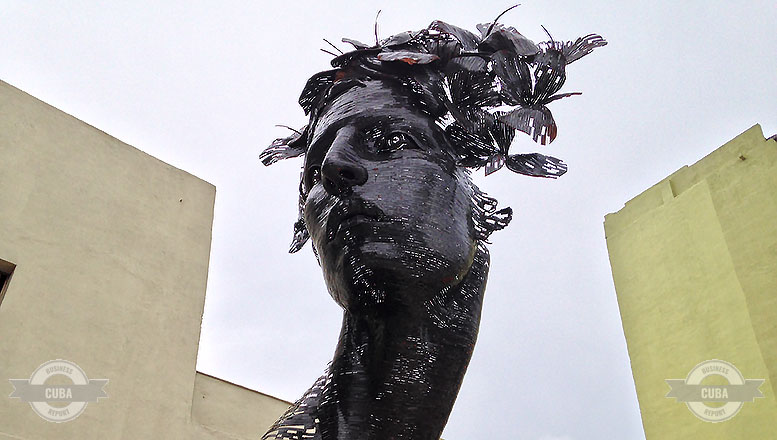 Havana's 13th Biennial is scheduled to run for a whole month this year from April 12th to May 12th. Founded in 1984, the Biennial is one of the most important cultural events that takes place every two years in Cuba and the surrounding region. It attracts Habaneros, local Cuban artists, international artists, collectors and buyers.
The Bienial de La Habana turns the capital city into a "cultural corridor" in which the artists and the public confront each other to "stir reflections, alter consciousness, ask questions and ultimately deliver new perspectives from which to observe life." The event not only focuses on contemporary Cuban art but also the artistic productions of the developing/third world and, especially, the art of "the South."
The Biennial of Havana takes place in the very same year as Havana's 500th anniversary of the founding of the city. It also coincides with the 116th anniversary of the one of the most outstanding Cuban artists of all time, Wilfredo Lam.
This year's theme is the "Construction of the Possible," the space devoted to understanding creation as "living event or experience in progress," said the latest press release from the Biennial website. Its mission, to find solidarity and understanding between all of humanity, irregardless of their place in society.
More than 200 artists from over 45 countries including Portugal, Brazil, Colombia, Argentina, Brazil, Mexico, France, Peru, Egypt, and Spain are involved in this year's Biennial.
Nelson Herrera. curator of the 13th Havana Biennial said that approximately 20 Cuban artists of the Island will also present their works of art.
The Havana Biennial 13th edition, was postponed in 2017 due to the devastation left by Hurricane Irma. It was then rescheduled for November of 2018. It was cancelled again and is now taking place this year, the perfect year for this great art event within the context of the City's 500th anniversary.
Art will be exhibited throughout Havana on its streets will which serve as open urban spaces. The six kilometer Malecón (seawall), the bustling "Línea Avenue" in the Vedado district, art galleries such as the Wilfredo Lam Art Centre, the Pabellón Cuba, the Center for the Development of Visual Arts, Fototeca de Cuba, and other cultural institutions related to the Office of the City's Historian, the National Library José Martí and the UNEAC Villa Manuela Art Gallery will also serve as places of exhibition.
Organizers of this edition of the Havana Biennial have released the names of the participating artists and their countries of origin. The artists are as follows:
Laeïla Adjovi and Loïc Hoquet (Benin, France)
Ravi Agarwal (India)
Ibrahim Ahmed (Egypt)
Leila Alaoui (Morocco/France)
Esther Aldaz (Spain)
Juan Carlos Alom (Cuba)
Narda Alvarado (Bolivia)
David Beltrán (Cuba)
Marcos Benítez (Paraguay)
Isak Berbic (Bosnia)
Nathalie Anguezomo Mba Bikoro (Gabon)
Jose Braithwaite (Panama)
Alejandro Campins (Cuba)
Tamara Campo (Cuba)
Ruy Cézar Campos (Brazil)
Tania Candiani (Mexico)
Richard-Viktor Sainsily Cayol (Guadeloupe)
Colectivo el puente_lab: Juan Esteban Sandoval and Alejandro Vásquez Salinas + Mariangela Aponte Nuñez (Colombia)
Nicolás Consuegra (Colombia)
Max de Esteban (Spain)
Marianne Fahmy (Egypt)
Oscar Figueroa (Cuba)
Adonis Flores (Cuba)
Fernando Foglino (Uruguay)
José Manuel Fors (Cuba)
Ana Gallardo (Argentina)
Rocío García (Cuba)
Luis Gárciga and C.A.S.I.T.A. (Cuba)
Ghazel (Iran)
Dania González Sanabria (Cuba)
Adler Guerrier (Haiti)
Manaf Halbouni (Syria/Germany)
Katsuhiko Hibino (Japan)
Javier Hinojosa (Mexico)
Karlo Andrei Ibarra (Puerto Rico)
Geraldine Javier (Philippines)
Reena Saini Kallat (India)
Tellervo Kalleinen and Oliver Kochta Kalleinen (Finland)
Jackie Karuti (Kenya)
Clemens Krauss (Austria)
Abdoulaye Konaté (Mali)
Mehdi-Georges Lahlou (Morocco/France)
Oscar Leone (Colombia)
Kadir López (Cuba)
Matilde Marín (Argentina)
Frank Martínez (Cuba)
Maurice Mbikayi (Democratic Republic of the Congo)
Jorge Méndez Blake (Mexico)
Manuel Mendive (Cuba)
Ryan Mendoza (Germany)
Théo Mercier (France)
José Manuel Mesías (Cuba)
Alexia Miranda (El Salvador)
Asunción Molinos (Spain)
Lais Myrrha (Brazil)
Moataz Nasr (Egypt)
Cheikh Ndiaye (Senegal)
Tejuoso Olanrewaju (Nigeria)
Charo Oquet (Dominican Republic)
Romina Orazi (Argentina)
Donato Piccolo (Italy)
Sara Ramo (Brazil)
Hans Hamid Rasmussen (Algeria/Norway)
Pedro Cabrita Reis (Portugal)
Lourdes de la Riva (Guatemala)
René Francisco Rodríguez (Cuba)
Natalia Rondón (Venezuela)
Semilleros (Chile)
Mary Sibande (South Africa)
Ela Spalding (Panama)
Sun Xun (China)
Tadasu Takamine (Japan)
Taller de Arte y Experiencia (Cuba)
Yves Trémorin (France)
TRES (Mexico)
Dayana Trigo (Cuba)
Emmanuel Tussore (France)
José Villa (Cuba)
Maya Watanabe (Peru)
Alydia Wever (Aruba)
Alberta Whittle (Barbados)
Guy Woueté (Cameroon)
Camilo Yáñez (Chile)
0 comments