---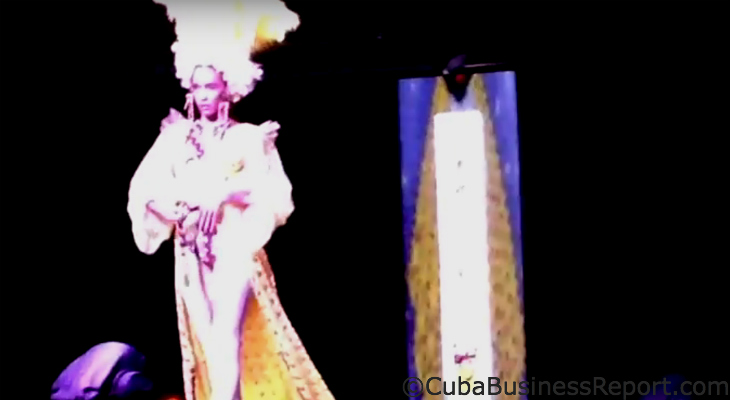 Life before the Chanel show in Havana.
Trabajadores reminded us that it's Fashion Week in Havana.  Art and Culture.  Art and Fashion.   It inspired us to share a video on our YouTube channel, of an amazing fashion show that took place in Havana in November of 2014.
The Chanel show in Havana was not the first fashion show of its type and calibre to take place.  Art and fashion in Cuba is going strong. Cuban creativity and talent stands like a colossal giant against the North American art and culture scene.  Art and culture in Cuba is vibrant and flourishes because of a government that invests in its art, artists and cultural institutions.
Trajes Extremos was a fashion event which took place at the Museo Nacional de Bellas Artes.  This is the result is what happens when one gathers the greatest Cuban artists, models, dancers, creativity and adds some music into the mix.  A night at the Museo muy interesante!
Stumbling upon this was a total surprise for me.  I saw a lineup outside of the Museo Nacional.  Curiosity always gets the best of me and I joined in the lineup, not knowing what to expect.  The video is not top quality.  I filmed the event with my smartphone and was not prepared for this surprise fashion show. It was astounding! Amazing!
Rafael H. Méndez González of the Consejo Nacional de las Artes Plasticas called it a "project linking art and covering creation on the body.  He said the event was, "… unique moments in which the design is expressed as art, offering multiple forms, structures, colors and superfluous materials and ends with the transformation of the vision so much that it is considers fashion as frivolous."
From the Trabajadores' article on Fashion Week in Havana:
"Fashion Week in Havana will be held under the theme of craftsmanship and identity between 12 and 16 October, in the great Theatre of the Havana Alicia Alonso, in the scope of the Conference by the Cuban culture.
Creators of the Cuban Association of craft artists (ACAA) textile section will present their designs and parts related to personal image, such as jewellery, fashion jewellery, skin manifestations, patch, and others, which will complement the catwalks of costumes of Fashion Week in Havana.
More than 40 designers and artists from across the country who do not belong to the ACAA, but have had a significant career in fashion and been recognized by the Cuban Foundation of Culture and other culture institutions will participate."
Art and Fashion.  Arte y Moda.  Havana.  Cuba.  Industry sector:  Cultural in Cuba
Source:  Translated from Trabajadores