---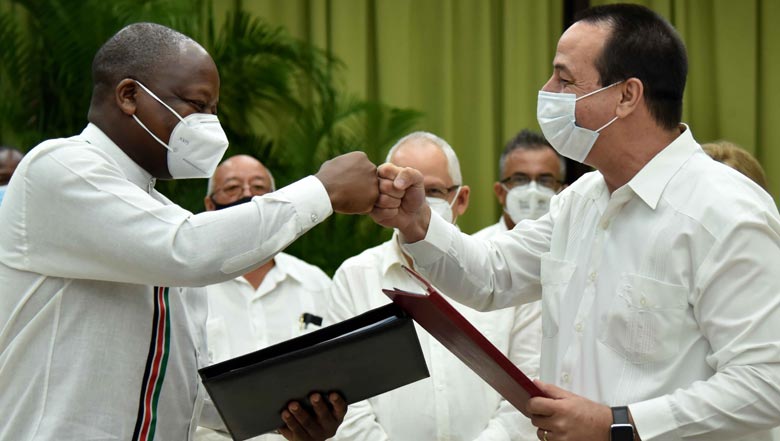 Kenya and Cuba have signed an Inter-Ministerial Cooperation Agreement that extends the provision of medical services and the training of doctors in the African nation. The original agreement was first signed in April 2018.
Kenya's Senator MuthaiKagwe and Cuba's Minister of Health, Dr. José Angel Portal Miranda, and other key officials attended the signing ceremony .
The two officials discussed Cuba's efforts in the fight against COVID-19 and Cuba's five covid vaccines.
Senator MuthaiKagwe thanked Cuba for its support in Kenya and confirmed that the signing of the agreements will boost medical cooperation between Cuba and Kenya.
Cuba has also provided assistance to Kenya in the control malaria. In late April, the government announced that Malaria experts from Cuba had landed in the country to help map out key mosquito breeding sites as part of the measures to control the disease.
Each year an estimated 20,000 Kenyans die from Malaria.
Rashid Aman, Health Chief Administrative Secretary of Kenya said, "As you recall, in 2019, Kenya signed an agreement with the Cuban Government who successfully managed to eliminate Malaria in 1973. The agreement was for both countries to undertake a two-year project on the use of biological methods for the control of mosquito vectors."
The cooperation agreement—first signed on April 25, 2018 for medical services—renews Cuba's commitment to support medical services in Kenya. Cuban medical staff will be training doctors in Comprehensive General Medicine for three years.
Rose Mudibo, Director of Liaison and Administration of the Cabinet Office of the Secretariat of the Ministry of Health and Peter Sang, Deputy Director of the Ministry of Foreign Affairs of Kenya, were present at the signing ceremony.
Several officials from the health ministry (MINSAP) and the Ministry of Foreign Trade and Investment (MINCEX), Luis Fernando Navarro Martínez, Vice Minister of Health, and Déborah Rivas Saavedra, Vice Minister at MINCEX attended this important ceremony.
Kenya and Cuba's collaboration in health began in June 2018 when 101 specialists traveled to the African nation, to provide healthcare for disadvantaged people throughout Kenya.
0 comments