---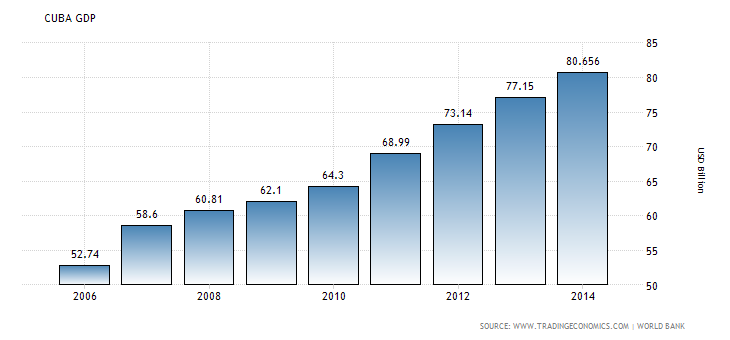 In spite of a US embargo that is more than five decades old, the US exported goods worth almost $300 million to Cuba in 2014, thanks to a law enacted in 2000 that modified but did not repeal the decades-long embargo. Nevertheless, President Obama has initiated normalization of diplomatic and trade relations between Cuba and America. Below are facts to know about investing in Cuba.
Cuba's Economic Pillars
According to data from the CIA's The World Factbook, the services sector (doctors and teachers working overseas) is the biggest driver of Cuba's economy accounting for 72.7% of its GDP. The industrial and agricultural sectors account for 23.5% and 4% of the country's GDP respectively. Industrial production consists of petroleum, nickel, cobalt, pharmaceuticals, tobacco, construction, steel, cement, and agricultural machinery. On the other hand, major agricultural products include sugar, tobacco, livestock, potatoes, citrus, coffee, rice and beans.
Trade Relations
The CIA World Factbook figures show that Cuba derives 21.2% of its GDP from exports of goods and services. Out of this, services account for 70% of export revenues, whereas revenues derived from goods plug the 30% revenue difference. Countries that sell their goods to Cuba include Canada (16%) China (15%), Venezuela (14%), Spain (8%) and the Netherlands (6%). Countries that import goods from Cuba include Venezuela (37%), China (12%), Spain (9%), Brazil (5%), and Canada (4%). It is worth noting that Cuba's services sector is mostly made up of doctors and teachers working overseas, meaning that investors could exploit the money remittance niche.
Employment
Figures from Michigan State University's Broad College of Business show that Cuba has a total workforce of 5.3 million. Out of these, 72.3% are employed by the state while 27.7% work for non-state employers. More breakdown from the CIA shows that 72% of Cuban employees work in the services sector, 18% in the agriculture sector, and 10% in the industrial sector. Cuba's unemployment rate was 2.4% to 3% in 2015, according to official Cuban sources.
Promising Sectors
Cuba has promising off-shore oil blocks in the North Cuba Basin within five kilometers of its coastline between Havana and Villa Clara provinces that have not yet been explored exhaustively.  These investment opportunities are joint ventures with Cuba Petróleo Union, (CUPET), the state-owned Cuban oil company.
The agriculture sector is also ripe for investment since Cuba imports up to 80% of its food.  The proximity of the United States to Cuba makes this a very obvious market.  The Cuban agricultural sector is expected to gain significantly from the introduction of new farming technologies, equipment and other supporting imports.
Another promising investment niche is the pharmaceutical industry because Cuba is renowned for successfully developing drugs like Heberprot-P (used to treat diabetic foot ulcers in developing countries) and the lung cancer vaccine CimaVax-EGF which has already undergone clinical trials in Cuba and at the London Regional Cancer Center in Canada.Source The Roswell Park Cancer Institute in the United States is now raising funds to bring the vaccine to the US. Cuba's healthcare system and research and development sector is extensive and fully supported by the Cuban government. The US embargo and its economic consequences forced Cuba to create its own medical research and biotechnology industry which has resulted in medical advances.  Cuba is now seeking investment partnership in its pharmaceutical and biotechnology industries.
Tourism is another huge investment opportunity for investors.  In 2015, more than 3,524,000 tourists came to Cuba.  In the month of March 2016, Cuba experienced an increase of 14% in tourists and is expecting another 175,200 in 2016.   With the easing of trade sanctions tourism figures are expected to rise especially with the millions of American tourists expected to visit in the near future.  New hotel construction and existing hotel renovations are underway to alleviate the shortage of hotel rooms.  The recent deal with Starwood Hotels and Resorts for the renovation and management of three first class hotels in Cuba are just some of the types of tourism opportunities available for investors.
Conclusion
In light of the thawing diplomatic relations between the US and Cuba, Cuba's economy is bound to grow at a relatively fast pace in the next decade. Sectors to focus on include oil and gas, infrastructure, construction, transport, pharmaceuticals, food and agriculture, tourism and mining.
For further details about investment opportunities, Cuban investment laws and the Cuban Ministry of Foreign Commerce and Investments' portfolio of investments can be found in our earlier article on Foreign Investment Opportunities in Cuba.