---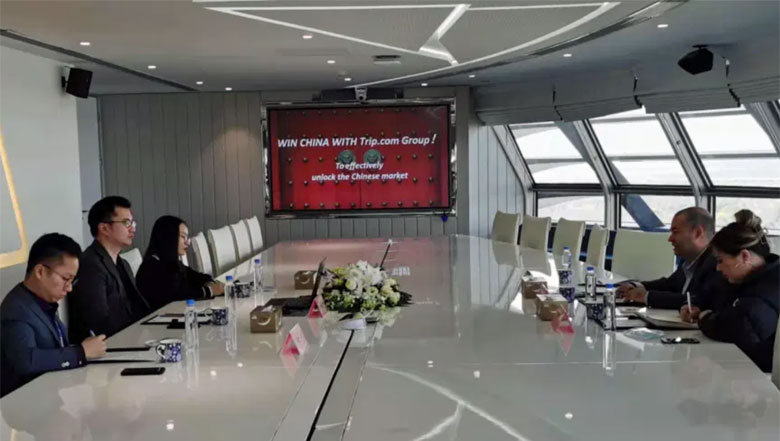 Cuba's Consul General in Shanghai, Nestor Torres, visited the headquarters of Trip.com Group on March 25 and was received by Edison Chen, general manager of the Destination Business Department. During the meeting, they discussed plans to promote Chinese tourism to Cuba.
The diplomat pointed out the need to strengthen communication between the Trip.com group, the Cuban Ministry of Tourism and Cuban agencies and tour operators, to support and stimulate the recovery of travel by Chinese tourists, once the sanitary conditions imposed by the pandemic allow it. The tourism industry plays an important role in Cuba's economic recovery in the post-pandemic stage, so Cuban entities are working in a coordinated and permanent manner to guarantee a safe environment for international tourists, Nestor said.
Edison emphasized the interest in collaborating in travel and product promotion initiatives to ensure that tourism continues to contribute positively to the promotion of cultural exchange and business opportunities. Especially Cuba, considered a fast-growing destination for Chinese travelers, and one of the most important partners for the group within the Caribbean region.
In November 2019, Trip.com Group signed a Memorandum of Understanding for cooperation with the Cuban Ministry of Tourism to enhance the promotion of Cuba as a tourist destination in China.
Trip.com Group is one of the largest travel companies in the world. The group, founded in 1999, has been listed on NASDAQ since 2003 (NASDAQ: TCOM), and has more than 45,100 employees and more than 400 million users. Ctrip, with 300 million Chinese users, and Trip.com, with 100 million members, are two major online travel agencies belonging to the group, targeting the domestic and international markets respectively.
This article on Chinese tourism to Cuba was translated by Cuba Business Report and first appeared on the Cuba-China embassy blog.
Cuba and China have celebrated more than 60 years of bilateral relations. Chinese tourism to the Island will be a huge market in the future for Cuba. China will be the guest of honor at the International Tourism Fair in 2022.

0 comments