---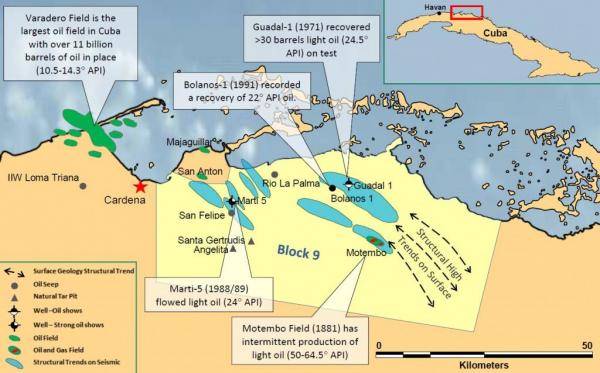 Update:  MEO Australia (ASX: MEO) is now known as Melbana Energy Limited, listed on the Australian ASX ("MAY"). 
Early mover in the Cuban oil and gas sector MEO Australia Limited (ASX: MEO) reported a significant find in Block 9 a week ago, and is currently working on a detailed assessment of the area.  A number of previously drilled wells in the north-eastern area of Cuba's shores have recovered light oil in the wells including the Guadal-1, the Marti-5 and the Bolanos-1.  These wells are in close proximity to the profitable Varadero oil fields. The recent MEO Australia press release includes the following key points:
"Ongoing technical review of Cuba Block 9 confirms the significant prospectivity of the block, with initial analysis identifying recovered oil from a number of previously drilled wells on the block and a number of structural leads and prospects.  The following is sourced from a press release by MEO Australia:
The first half of 2016 will see important ongoing news flow from Block 9, including the results of a full prospectivity assessment and the reprocessing of seismic data
MEO's established position in Cuba provides a strong early mover advantage ahead of ongoing strengthening of diplomatic relations between Cuba and the U.S.
Cuba's energy industry holds significant appeal including: low production costs (US$9/bbl), large-scale import replacement potential and an attractive fiscal regime
Investment interest in Cuba's energy industry is increasing and includes a recent transaction that indicates significant value upside in Block 9.
These historical drilling results along with the previously produced Motembo field and the extensive natural seeps and tar deposits (all within MEO's Block 9) indicate a widespread and prolific petroleum system within MEO's Block 9.
In addition, initial analysis has identified the presence of a number of prospective structural trends on Block 9, and the potential for a significant number of additional structural leads and prospects has been identified during the preliminary interpretation of the existing seismic data.  A project to reprocess some of the existing 2D seismic data has commenced.  This reprocessing will seek to improve the data quality and thus enhance the understanding of Block 9.
MEO expects ongoing updates over the coming months and to conclude its preliminary assessment of the prospectivity of Block 9 and the seismic reprocessing project by mid-year.
MEO's Managing Director and Chief Executive Officer Peter Stickland, commented on the announcement:
"Cuba Block 9 represents MEO's highest priority asset for near – term value creation.  Early 2016 will be an exciting time for this asset, with the completion of major reviews currently underway that will confirm Block 9's potential and future growth plans.  Interpretation of the data that has been received so far suggests a rich petroleum system is present, that there are a number of old wells that have tested oil and there are a significant number of prospective structural trends in Block 9.
"MEO's early mover positioning in Cuba holds significant potential.  The low operating costs in the Cuba support strong profitability levels even in depressed oil price conditions and the improving diplomatic relations with the U.S. is expected to drive substantial foreign investment over the coming years."
Interest in investing in the oil industry in Cuba continues to grow. Recently – listed Leni Gas Cuba Limited reported in its accounts to 31 September 2015 that it had acquired a 15% interest in Petro Australis Limited at a price that values Petro Australis Limited at more than A$11 million.  Petro Australis Limited's only reported asset is a conditional back  – in right for 40% of MEO's Block 9, onshore Cuba.  This transaction implies significant upside potential for the valuation of  Block 9 within MEO's portfolio given the current market capitalisation of MEO of only $7.5 m."
Cuba's Cuba Petróleo Union (CUPET) controls and operates the oil and gas sector in Cuba.  The only other significant player is Canadian giant Sherritt International, successfully operating on the Island since 1991.