---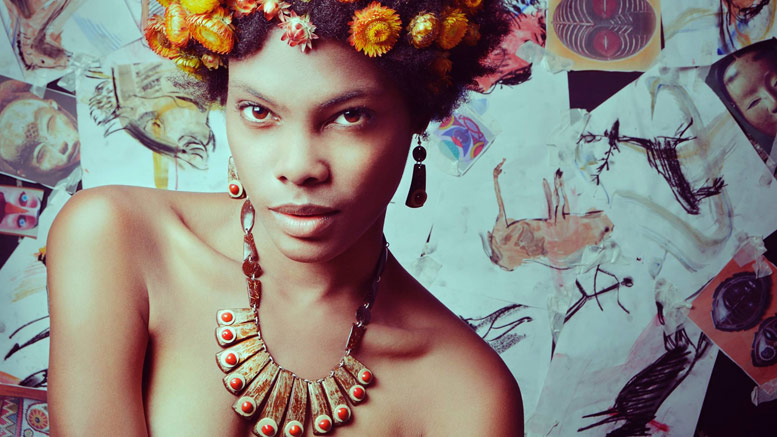 This is the second posting of my Cuba chronicles describing my travel and work in Cuba. I've come down to Havana to shoot interviews for a documentary on the making of Vestiphobia Cuba, an performance art  project including a series of performances directed by Steve Fagin, a workshop in sustainable fashion design, directed by Uta Bekaia, and a fashion film series curated by Berta Jottar.  The entire project, one of the largest collaborations yet between American and Cuban artists, was produced by Grettel Carbo and Berta Jottar.  This amazing team along with thirty odd Cuban artists produced this extravaganza at the now famous arts complex, Fabrica de Arte Cubano.  The performance is about fashion as a shield, a weapon, a fetish, a creative art form, as well as a particularly harmful worldwide addiction to 'fast fashion' and it's unsustainability.  We plan to interview the Cuban performers and artist, dancers, and models who brought this show to life in Havana this past February as well as capturing Cuba at this pivotal time in it's history.     Please contact me with any questions you may have or comments.  I hope you enjoy learning about my work and the fascinating and talented people I've come in contact with Cuba.
Saturday 7:19 am, June 17, Vedado, Havana
The morning was spent exercising in one of the many outdoor public park gymnasiums each of  which has a dozen outdoor exercise machines,  a terrific way to stay in shape without heading to a hotel gym or just jogging in the parks and streets.  Cubans are big on physical fitness and there are several of these gyms around the city of Havana, and throughout Cuba.  I've developed a nodding comraderie with the other morning work-out gang  who range in age and fitness like any other group of 'gym rats' anywhere.   I'm having difficulty fact-checking this so if anyone knows the origin of these exercise parks, let me know!
My producer, Berta Jottar, and I visited an internet park, hoping  for a bench in the shade, spending an hour in the sweltering heat of midday for a chance to communicate with the outside world. We then walked a few blocks, seeking shade all the way, to visit with the artist, Julio Neira, who's work I fell in love with at the 2015 Havana Biennale.  His exhibition, Los Codicos Secretos del Samurai depicts a surreal world of geisha, samurai, and Cuban baseball players in a series of erotic and heroic scenarios.  Julio recently restored a turn of the century Centro Havana house and rents the legally-permitted two rooms to tourists.  His wife, Indira, is a musicologist and producer of music content for radio and television.  Julio has lived and worked in Europe and Mexico but has chosen to return to Cuba and sees the great opportunities that lie ahead for the arts here in Havana.  Julio is in several important collections and has exhibited widely.  His Facebook page is at www.facebook.com/Julio-Neira-1397491307157620/
Napping is a very good idea to overcome the fatigue brought on by searing temperatures.  Feet up 18 inches above the height of the head, reversing  the blood flowing in the vascular system and rejuvenates the body quickly.  Ten minutes in this position is worth an hour's nap.  I recommend it highly.
Opening at Taller Perugorria.  Photography exhibit by Danay Napoles.  An extraordinary exhibit of large portraits of personalities in music, art, theatre, film, and literature.  X.Alfonso,  Pichi Perugorria, amongst other icons of the arts.  In the appreciative crowd were Cuty Ragazone, Juan Pin Vilar, and Julio y Indira Neira.
After the opening of Danay's photography, Berta and I went back to our mansion on Calle 21 to shoot additional interviews with Yoelvis Lobaina Cobas, Francis del Rio and Yessica Boroto Perryman.
Conversing with Yoelvis who worked with us on the production at Fabrica de Arte.  He made great casting suggestions and also worked very hard to supply food for all our artists at lunch.  Joelvis is an actor who also works as a producer.  A very busy young man.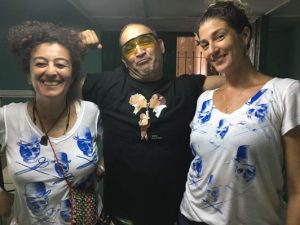 Francie or Francis del Rio, one of Cuba's great singers, rappers, poets and all-round 'bad boy'.  Maker of brilliant music videos, always with a scorching sense of humor.  Francis talked about Cuban and Afro-Cuban music history and trends and about working on Vestiphobia Cuba.  I had always been a big fan and now, I had the joy of working with him on stage.  Francie is editing a music video of the song he performed for the production. Besides writing, performing and video production, Francie is also a fine artist, making intricate  seemingly coded pen and ink drawings.
Yessica Boroto Perryman – one of Cuba's great actors.  Yessica is magic to act with, an extraordinary comedienne and singer.  Hope to work with her again.  Look for her in the Netflix production Quatro Estaciones en La Habana  as the girlfriend of 'Red'.  Yessica helped develop her role and understood the script of Vestiphobia better than any other cast member because she was the only one… with a complete script and she worked with me on translating her dialogue for the Cuban ear.
0 comments