---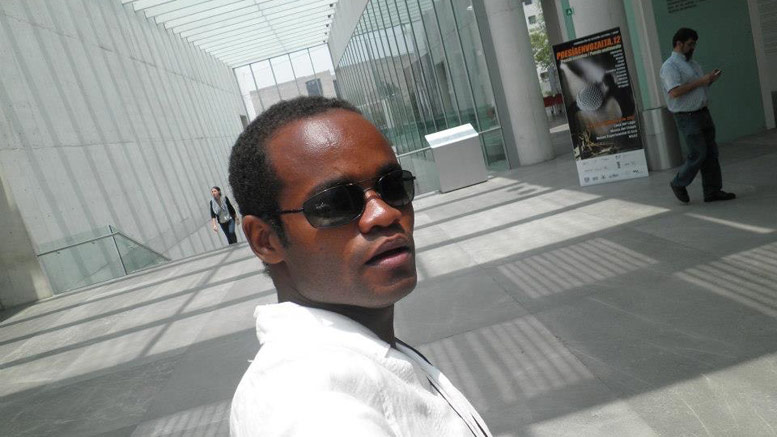 This is the third posting of my Cuba chronicles describing my travel and work in Cuba.  I hope you enjoy learning about what I do  and the fascinating and talented  people I've come in contact with in Cuba.
June 17th
Saturday morning at the beach, MiCaida, less than a mile past the over-crowded weekend crowd at Santa Maria.  It's supposed to be gay and the 'nude beach.'  I saw one topless middle-aged blonde and an aerobics dance routine by a group of Italian tourists that had me shouting "Encora!"  We soaked in the clearest waves and ate whole pargo, Cuban sea bass.  Got back and filmed nobody — we took the night off.
I went to see Jorge Enrique Caballero's play about a famous 19th Century court violinist, Claudio Brindis de Salas Garrido.  Jorge is an amazing actor who also wrote and performed the one-man show about the Cuban boxing champion, Kid Chocolate. He is a fiercely talented and a riveting performer.  I then went to the supper club cabaret, Cafe Madrigal to see my friend, Raciel Garcia who I found sitting  out on the second-floor balcony with his friends.  I got up and jammed with the band on harmonica ( I always carry a C harp with me).  I paid and left to see Heydi who sings at Julianna's in Centro Havana, the  slick new corner empire of the pizzeria I earlier mentioned and  the more upscale, karaoke cabaret next door where Heydi entertains, singing a wide repertoire of classic ballads, pop, funk and Motown. Heydi Peddie Rodriguez is a young recording artist with original music and videos viewable on line.
June 25th
Morning meditation 7-8:30 included slow Hatha yoga postures and trying to determine just how hot it was getting by the moment.  The internet park around 9:30 seemed like a trek on hot coals as the temperature reached the high 80's.  Connectivity on Sunday morning early was fast and felt like a cool breeze as I joyfully surfed the web and downloaded pictures of the shoot and nightlife in Havana.  Not one drop of signal which I'd say is rare later in the day.
I wrote on my questions for tonight's shoot  when I was back and waited for Berta to join me for a lunch and then to catch another  performance of  Jorge Enrique Caballero's Brindis de Salas and a meeting with the maestro Rumbero, Jose del Pilar, who's traveled the world dancing and playing Yoruba percussion.
In the evening at la Casa Margy, we shot my interview with the help of Celia Perez who helped us throughout the interview process.  Celia studies music production and we met when she was on the staff of the International Film Festival in Gibara,  produced by ICAIC  – Cuba's esteemed film consortium.  I spoke in English and Spanish while the rest of the interviews were in Spanish.
Dinner was at El Farallon, a local paladar, private restaurant,  specializing in Italian cuisine, featuring a stone fountain in the center of the dining room, holding more than a half dozen turtles that guests can  handle,  at their own risk, of course!  The food is excellent, the setting cool, and service attentive.  I had a lunch of  grilled pargo, a very moist and large serving which is pretty much what I always order.  It came with a light flour  coating and was more sautéed  than grilled and a bit salty but  it was a very tasty and generous entree nonetheless, and I figured it would just wind up feeding the tortoises, so I happy consumed it.
June 26th
Lunes, Monday we spent again arranging for evening interviews and not having great luck getting four of the final Cuban staff.  I had extended my stay in the hope we would shoot  our last interviews with X. Alfonso and Inty Herrera to help further the project and consider doing FFFF2 in February.  Fabrica, Film, Fashion, Fabulous Numero 2…  We didn't have  any plans for Monday night and instead of hitting The Corner Cafe or La  Zorra y El Cuervo…  we dined at our usual, Los Duenas que esta en ningun guia pero se comen bien alla por muy  poco dinero nacional.
June 27th
Tuesday I had a lesson with the maestro Jose del Pilar.  He came for late breakfast and he taught me clave for two hours on soup spoons we purloined for the purpose from Donna Margy's kitchen and then an hour of baile dance class going over the Rueda de Casino, a classic rumbero dance step.  Jose was going back to Cienfuegos and then on to Santiago de Cuba for the Fiesta del Fuego and yes, everyone will burn happily in the sunshine of the Equatorial heatwave upon us.
June 28th
Back in our occasional driver, Yancy's blue '56 Chevy almadron, named so for their almond shape to Jose Marti Airport  Jet Blue to JFK.  I leave Cuba with more work to be done on my return  and new projects on the horizon.  So I leave you,  el Americano con alma Cubano!
PS. New York Update:
Back in New York, Berta Jottar,  who along with Grettel Carbo, produced Vestiphobia Cuba, was able to complete the Havana interviews which included Tanya Menendez Collazo, Ivan Vergara, of  Fabrica del Arte.  These wonderfully tireless  producers  had initially invited us to bring our project to Havana's most popular venue.  Adan Perigorria, who hosted our workshops at the Taller Gorria also granted us an interview. We're very grateful to Adan for all he's done for the project.
On her return to New York, Berta has been transcribing and logging the interview footage in preparation for editing.  Interviews of our New York staff, including Steve Fagin, director and Uta Bekaia, art wear designer as well as others involved will be completed over the next month.  I will be making trips to Havana to continue my projects there and I'll be keeping you informed of our progress here on the Cuba Business Report.  I will also be  reporting from New York and, if I find an interesting Cuba-related story in Central Europe, you'll read it here!
0 comments