---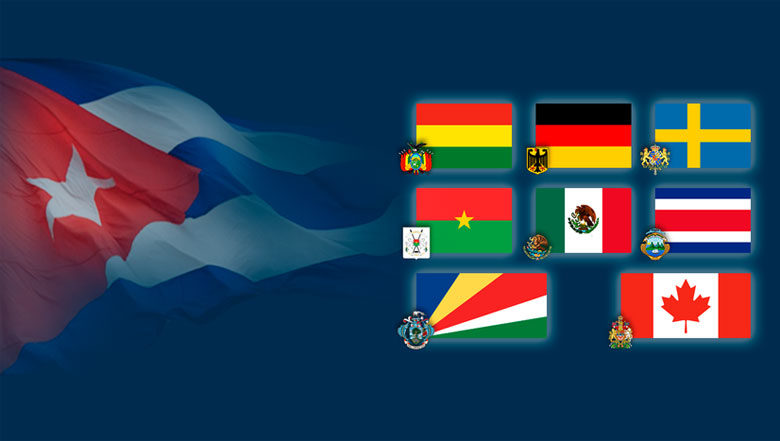 At a formal ceremony yesterday eight new ambassadors to Cuba presented their diplomatic credentials to the President of Cuba, Miguel Díaz-Canel Bermúdez, and the Minister of Foreign Affairs, Bruno Rodríguez Parrilla.
The following diplomats received their accreditation in Cuba: the Honourable Mr Perry John Calderwood, Ambassador of Canada; the Honourable Ms Heidrun Tempel, ambassador of Germany; the Honourable Dr Ariana Campero Nava, ambassador of the Plurinational State of Bolivia; the Hon. Mr. Alain Thierry Jean Baptiste Ouattara, Ambassador of Burkina Faso; the Honourable Ms. Harisoa Lalatiana Accouche, ambassador of the Republic of Seychelles; the Honourable Mrs. Evelyn Patricia Sánchez Granados, ambassador of the Republic of Costa Rica; the Honourable Mr. Tomas Wiklund, Ambassador of the Kingdom of Sweden and His Excellency Mr. Miguel Ignacio Díaz Reynoso, ambassador of the United Mexican States.
After the accreditation ceremony, as is customary, the new ambassadors to Cuba lay flowers at the José Martí monument in the Plaza de Revolución (Revolutionary Square).
The ambassadors will now begin their work at their respective missions in Havana.
0 comments