---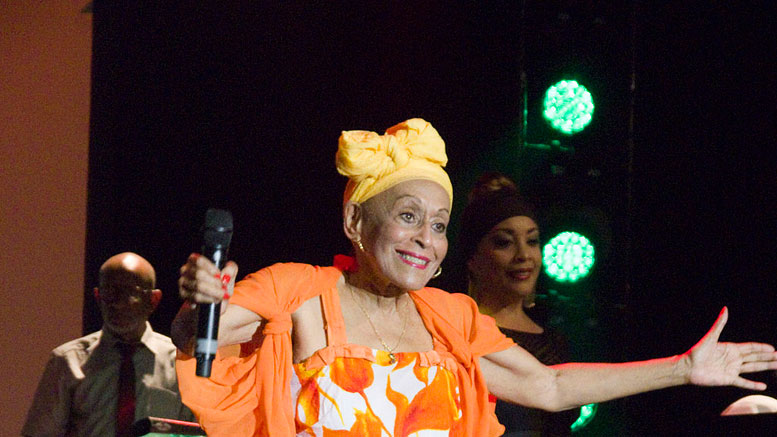 At 86 years of age, Cuba's Lady of Music, Omara Portuondo, is determined to leave an admirable legacy in the world of music. And judging by her amazing career, she has succeeded.
Omara was born in the neighborhood of Cayo Hueso, Havana in 1930. For the songstress, music has always been a part of her life. Omara began her music career in her hometown in 1950 performing as a member of a dance group with her sister, Haydee, at the famous Cabaret Tropicana nightclub and the Radiocentro Theater.
From 1952 to 1953, Omara sang for Orquestra Anacaona, an all female group.  The two sisters also formed a music group called Cuarteto Las d'Aida. The all-female group dominated the Cuban music industry in the 1950's. In 1952, Las d'Aida toured the United States and sang as backup for Nat King Cole.  In 1959, Omara released her first solo album, Magia Negra.
The group's tour overseas began in 1957. They managed to perform alongside musical greats such as Nat King Cole. With Nat King Cole, the group recorded the RCA Victor Album which was an instant hit. Their musical style was known as Filin. Filin is similar to Jazz music. Due to its uniqueness and her leading role in the group, Omara became known as the Bride of Filin. It led the way to the formation of many singing groups in Cuba. From the 50's to the 80's, Omara and Las d'Aida were busy touring the United States but their main support base was in Cuba.
Cuba provided the group with the chance to imprint their names in the country's history books of famous musicians. After a temporary stay in Miami, Omara decided to return to Cuba while her sister remained in the United States. According to Portuondo, the revolution in her home country had prompted her return.
Under the leadership of former president, Fidel Castro, Omara continued her musical journey. She became and remains to this day, one of the most celebrated singers and composers in Cuba. She is famous for her ballads and many have compared her to the great French songstress, Edith Piaf and Billie Holiday, the American jazz composer and singer.
A truly Cuban legend, Omara was featured in a documentary named after her that won the Cannes Film Festival Award in 1986. In 1997, Omara met a group of celebrated Cuban musicians, known as the Buena Vista Social Club when she was recording one of her songs at the Havana Studios. The group was also recording at the time. Since the producer of Buena Vista Social Club knew Portuondo, she was asked to collaborate with them on the album. Omara welcomed the idea, singing with Compay Segundo and Ibrahim Ferrer.  In the same year, she joined with Compay Segundo to produce an album called Veinte años.
The album registered impressive sales of more than 1.5 million copies were sold globally. The group raised Omara's profile in the U.S. and around the world, gaining an enormous fan base. As an established artist, Omara continues to make new records that are listened to by the world. She also performs live when she tours overseas and finds time work in  movies, and a TV series.
Her latest albums include the Gran Omara Portuondo (released in 2002) and Lagrimas Negras (released in 2005), Omara and Chucho (Valdes) (released in 2011). At 86, this Cuban legend continues to focus on her music. When she looks back on her musical career and life, she says it was a worthwhile journey.
0 comments