---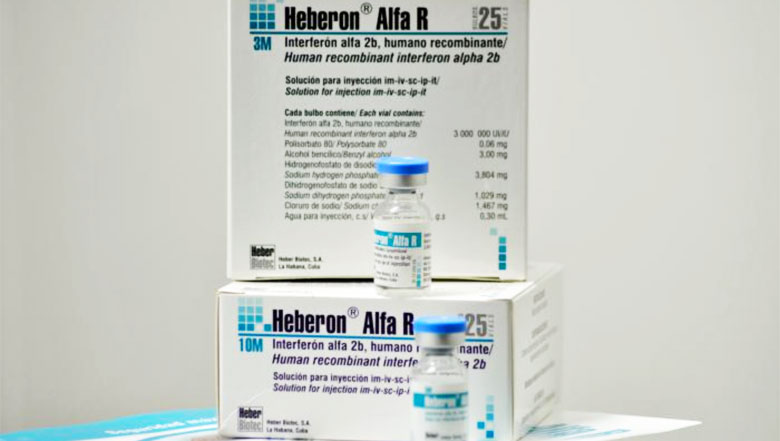 More than 45 countries have requested Cuba's Interferon Alpha 2B Recombinant, the only drug currently available to combat COVID19 (coronavirus). The drug is manufactured by the Center for Genetic Engineering and Biotechnology (CIGB) under the brand name Heberon Alfa R.
Without any other alternatives on the horizon, other nations are seeking to incorporate Interferon Alpha 2B into their treatment protocol after the positive results observed in China.
Interferon Alpha 2 generates an antiviral mechanism that relates to the body's immune system. It acts with virus-like particles to stimulate the immune system. The vaccine is applied nasally.
Cuba is currently researching and testing 22 other medicines to combat the COVID-19.
A meeting held recently between BioCubaFarma and researchers verified the progress made in preliminary clinical trials of the vaccine. It will be incorporated into current treatment protocols.
Cuba is currently using other drugs in addition to Interferon Alfa 2 B to combat COVID-19. These include Oseltamivir, a selective inhibitor of flu virus neuraminidases, and Kaletra, an antiretroviral that has been successful globally in healing infected persons.
A team of researchers at the Ministry of Health (MINSAP) are watching new developments and testing treatments that have yielded results in other countries.
Cuba continues to supply its own health system with the drugs necessary to treat infected patients. The President of BioCubaPharma said at a press conference it has "all the capacities to supply this antiviral to the National Health System and respond to requests, without putting at risk the amounts required by the country."
0 comments