---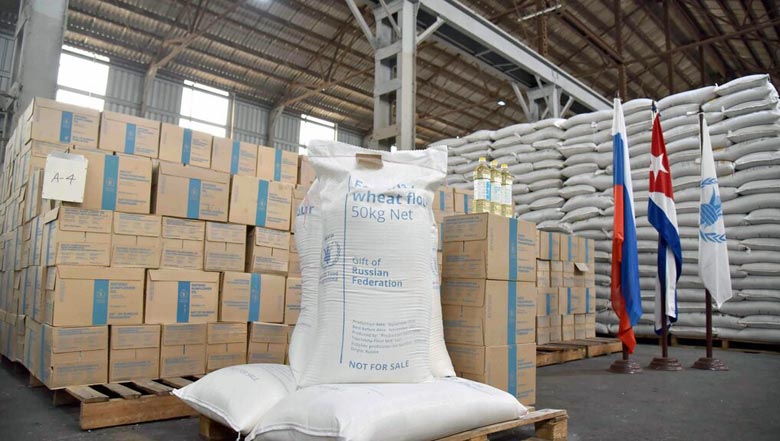 Cuba has received a donation of food aid from the Russian Federation through the United Nations World Food Program (WFP), the food-assistance branch of the United Nations.
The shipment of food aid arrived on Thursday in Havana. The ceremony was held at the Distribution Freight Center of the Ministry of Domestic Trade (MINCIN). It was attended by Andrei A. Guskov, the Russian Ambassador to Cuba; Paolo Mattei, the WFP representative to Cuba; Grisel Ávila Díaz, the deputy minister at MINCIN; and Carlos Fidel Martín, director of International Economic Organizations of the Ministry of Foreign Trade and Foreign Investment (MINCEX).
The food aid consisted of 253 tons of sunflower oil and 430 tons of wheat flour at a value of $1 million. It will be distributed to 77,000 people supported by Family Attention System social assistance program for the elderly and other vulnerable peoples throughout Cuba.
"The food aid delivered today is a true reflection of the sincere friendship and long-standing relationship in the spirit of solidarity that unites Russia and Cuba. This support for the friendly Cuban people is very important, both in the face of the pandemic [caused by the coronavirus disease] COVID-19 and in a situation exacerbated by the unprecedented strengthening of the economic, trade and financial blockade imposed by the United States against the Liberty Island," the Russian ambassador said.
Related News:
He also said that further shipments of other products are expected to arrive throughout the year.
Since 2018, Russia's donations to Cuba through the WFP since 2018 have totaled $11 million. Russia's previous donation provided food aid to the school meals program for 2020-2024.
Avila Diaz thanked the Russian people for their continued support and donation.
0 comments