---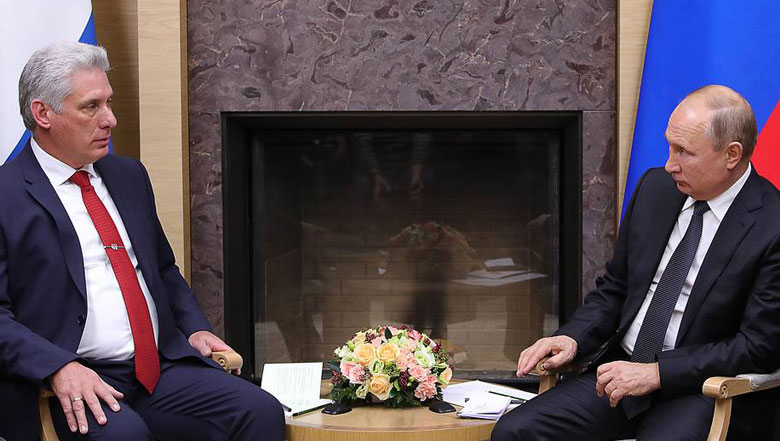 Russian President Vladimir Putin has accepted President Miguel Diaz-Canel's invitation to visit Cuba. The invitation to Putin was extended by Diaz-Canel during his visit to the Russian Federation last October.
During the October visit, the two presidents focused on the prospects for strengthening the Russia-Cuba strategic partnership and political issues on the international agenda.
The exact date for the visit has not been confirmed but will be announced when "his work schedule (is) taken into account, " the Russian Ambassador to Cuba Andrey Guskov told Sputnik news.
"The timing of its implementation will be considered taking into account the head of state's work schedule, as well as a plan of bilateral contacts at the highest levels," Guskov said.
Over the past several years, the Cuba-Russia relationship has experienced significant growth. Top officials from both nations have exchanged frequent official visits, the most recent by Russia's Foreign Minister, Sergei Lavrov, (his second visit of 2019), and a visit by Dmitry Medvedev in October.
Bilateral talks have focused on the expansion of military-technical cooperation, joint oil exploration and production, and biotechnology cooperation.
Moscow is studying proposals on further strengthening the Cuban defence potential, Guskov said.
"As it is known, the Cuban Revolutionary Armed Forces are largely fitted with weapons and military equipment made in the Soviet Union and Russia, including air defence facilities and coastal gun-missile integrated weapon systems. Relevant service and repairs, delivery of spare parts and components, as well as solution of other related tasks are needed to maintain combat readiness. We take into consideration these needs in our cooperation. We are ready to study our partners' possible offers on further strengthening the Republic of Cuba's defence potential," Ambassador Guskov told Sputnik.
According to Guskov, Russia also plans to disburse funds of 1 billion euros ($1.09 billion) to Cuba for the implementation of the joint projects, including railroad infrastructure, metal industry and energy.
"The total amount of the planned loans for these and other deals, which will be provided in the coming years, can exceed 1 billion euros. I want to stress again that the funds poured into the Cuban economy will be reimbursed as settled loans," Guskov added.
The Russian Ambassador also said that Russian banks will provide almost 900 million euros for implementing restoration and modernization of the Cuban railroad infrastructure.
There are also plans to modernize the Antillana de Acero metallurgical plant and on conducting general repairs at 10 energy units of Cuban combined heat and power plants, Guskov said.
Trade between the two countries is on the increase. Russian exports to the Island amount to $372.7 M, but the country's imports only $15.2 M. currently. There is a mutual interest in increasing Cuba's exports to the Russian market.
In 2018, Russia's trade with Cuba totalled $387.9 M, an increase of 33.69% compared to the year before.
Russian tourism to Cuba is also growing and is viewed as a very promising investment for Russians.
0 comments