---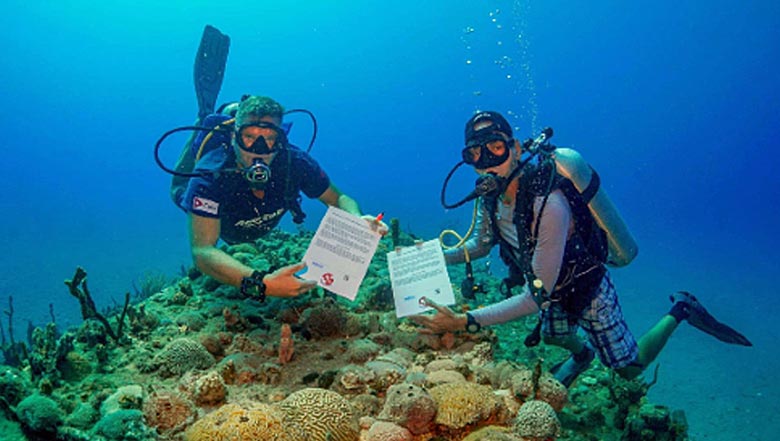 Canadian company AquaSub Scuba Diving, and Cuba's Marina Marlin S.A. have signed a commercial contract to promote scuba diving travel to Cuba. The newly formed company is a joint venture to be known as ScubaCuba.ca.
In a ceremony fitting such a venture, the scuba diving tourism deal was signed underwater by representatives from both companies at the Faro Luna International Diving Center in Cienfuegos. The commercial contract is the first deal of this kind to be established by a Cuban tourism company.
Norbert Pietkiewicz, the owner of AquaSub Scuba Diving and now ScubaCuba.ca, said there is confidence in the success of the operations. ScubaCuba will sell scuba diving travel packages of one week with extensions of several weeks, diving training and certification, equipment rental and repairs under the ScubaCuba brand.
His company, AquaSub Scuba Diving Center, based in Ontario, will promote Cuba as a first class diving destination, offering more than the usual sun and beach vacations.
ScubaCuba and the Cuban team at the Faro Luna Diving Center were recently involved in the project of the sinking of a decommissioned fishing vessel preparing for its last voyage. The boat was sunk at one of the ScubaCuba dive sites.
The sunken ship will create an artificial reef. They have equipped the shipwreck with instruments to provide data to measure coral growth and fish populations for the scientific community. The sunken vessel is named the "Ocean Defender." Ocean Defender is also the name of the program developed with the Ministry of Science, Technology and Environment (CITMA) and the University of Havana, to collecting data to learn about and preserve the oceans.
Canada is Cuba's largest tourism market. ScubaCuba hopes for a busy dive and travel season in the fall and is planning to restart diving packages at the beginning of October. At the end of that month, ScubaCuba will hold an international photo contest called Fotosub.
Mr. Pietkiewicz said of ScubaCuba's plans, "We are going to restart travel to Cuba on the first flight with Hola Sun on October 8. There will be a trip every week until the end of November. It will be a fall dive camp and divers can come for one week or several weeks. I will be there to receive them and organize everything."
ScubaCuba will work with Marina Marlin which manages over 20 international diving centers throughout the island and provide their support to ScubaCuba.
0 comments