---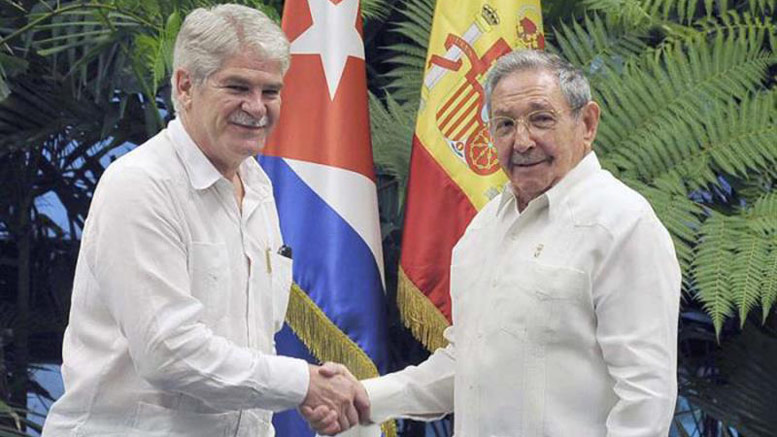 Spain's Minister of Foreign Affairs and Cooperation, Alfonso Maria Dastis Quecedo, arrived in Havana for an official visit this week.


  The objective of the Foreign Minister's visit is a strengthening of bilateral relations between both countries.  Spain and Cuba have long been united by a common history and culture.  Spain is also one of Cuba's biggest trade partners.
Last April, Cuba's Foreign Minister, Bruno Rodriguez, visited Spain on official business and met with the Prime Minister, Mariano Rajoy, at the La Moncloa Palace.

  On that visit, Rodriguez also met with King Felipe VI at the Zarzuela Palace, the official royal residence.

  While in Madrid, Rodriguez also attended meetings with Alfonso Dastis.
This was not the first meeting to occur between Rodriguez and Dastis.  The two Foreign Ministers met in Brussels last December after signing a cooperation agreement between Cuba and the European Union.
Prior to the meetings with Cuban officials, Dastis met with the Association of Spanish Businessmen in Cuba (AEEC).  He also laid a wreath in honor of Cuban hero Jose Marti at Revolution Square.
Dastis also attended an awards ceremony in which Havana's City Historian, Eusebio Leal, received the Grand Cross of the Order of Isabella the Catholic.
On Wednesday in Havana, Dastis acknowledged that Spain and Cuba are "partners and friends."  He also stated that Spain wishes to support Cuba's economic development and explained that both nations are seeking to make the relationship more dynamic.
Dastis also met with Cuban President Raul Castro on the visit.
The Spanish Minister is also preparing for the upcoming visit of King Felipe VI and Queen Letizia to Havana, a visit which is planned to take place next January.
0 comments