---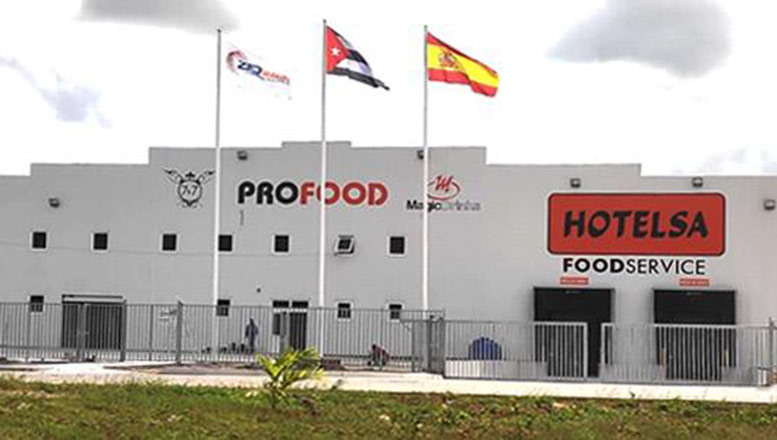 Profood Service S.A., a food manufacturing corporation from Spain began operations at the Port of Mariel Special Development Zone (ZEDM). It is the first company to build a factory in the ZEDM Zone.
The following is the press release from the Spanish trading company Hotelsa Alimentación S.L., a food service company for the hotel industry. Hotelsa is a global company present in Europe and the Americas, including Cuba, where they have 25 years of experience in the supply of food.
After 25 years with presence in the Cuban market, supplying our products from our Spanish production plants, we have concluded the construction process of a modern factory in the Mariel Special Development Zone. This means to go from being a Spanish branch recognized before the Chamber of Commerce of the Republic of Cuba to the first Cuban company with 100% foreign capital.
The new plant has a significant strategic advantage. The experience in other countries shows that arriving first allows us to assume a series of competitive primacies, which can only be achieved in this way. The main activity will be in the manufacture of concentrated juices and cocktails, drinks for cocktails, liqueurs, freeze-dried products for dispensing machines, which will be assembled in Cuba and will be installed in hotels, cruise ships, etc.
At the same time, two production and packaging lines for cereals and nuts have been installed for both the hotel sector and the Retail Network of stores.
We will have a catalogue of more than 300 products that will incorporate an important part of the best raw materials available in the country (Sugar, Spirits, Pulps and Concentrates of fruits, Flours, Glucose, Starches, etc.).
The 2,000 m2 production plant has modern and innovative production and packaging lines. The installed production capacity will be 26 million units per year and will have 60 employees with a high degree of preparation.
As a result of the great initial perspectives, the production capacity will be quickly increased in a second phase of investment that is planned to begin immediately in 2019 to reach a plant of 6,000 square meters.
0 comments