---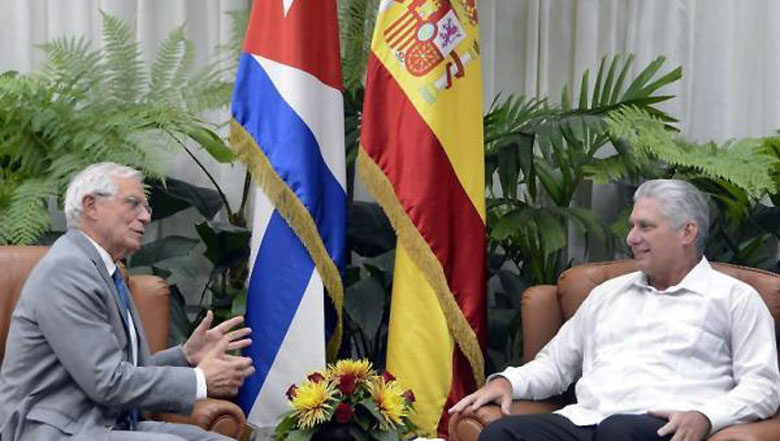 Josep Borrell, Spain's Minister of Foreign Affairs, European Union and Cooperation of the Government of Spain, wrapped up an official visit to Havana this week further strengthening relations with Spain, Cuba's third largest trade partner.
Minister Borrell was cordially received by Cuban President Miguel Díaz-Canel. While in Havana, the Minister held meetings with Bruno Rodríguez Parrilla, the Cuban Foreign Minister, Juan Pablo De Laiglesia, State Secretary for International Cooperation and for Ibero-America and the Caribbean, Juan Fernández Trigo, the Spanish ambassador to Havana, and Emilio Lozada, the General Director of bilateral relations. He also held meetings with Ricardo Cabrisas, Vice President of the Council of Ministers and with Alpidio Alonso, the Minister of Culture.
The two foreign ministers had met this past September at the 74th session of the United Nations General Assembly in which Borrell expressed his nation's opposition to the United States activation of Title III of the Helms-Burton Act.
During this time in Havana, the two ministers discussed issues of bilateral, regional and multilateral interests and current international issues.
At the end of his trip, Minister Borrell had the opportunity to explore the restored architecture of Old Havana with the City's Historian, Eusebio Leal.
On November 1, Borrell will become the European Union's High Representative for Foreign Policy and Security succeeding Federica Mogherini who now holds the position.
Spain and Cuba have shared diplomatic relations since 1902, a strong bilateral relationship built on historical, cultural and commercial links.
Spain is Cuba's third largest trading partner globally. The country is one of the chief foreign investors in the tourism and financial services sectors of the Cuban economy. Spain has continually had the greatest presence of all participating nations at the annual International Fair of Havana (FIHAV).
The Spanish Prime Minister Pedro Sanchez visited Havana last November in which a memorandum of understanding strengthening bilateral relations was signed.
Minister Borrell's visit ended with the announcement that Spain's King Felipe and Queen Letizia will visit Cuba in November for the commemoration of the 500th anniversary of the founding of Havana.
0 comments