---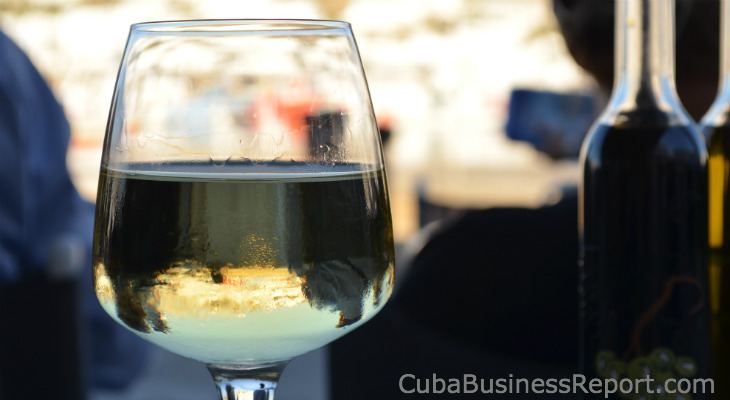 Alongside the emergence of the Cuban wine industry, Cuba is hosting a major wine festival for the third consecutive year this October. Known as the Fiesta Internacional del Vino, the event is co-organized with the Euro-Cuba Association. The Cuban wine festivals highlights the progress Cuba has made in both importing a wide range of foreign wines and in establishing its own vineyards.
The Fiesta Internacional del Vino will take place at Havana's landmark Hotel Nacional. It runs from October 2nd and ends on the 4th. Various Cuban wine companies plan to participate. International wine businesses that import and distribute foreign wines will also take part in the event. They include firms from Brazil, Spain, Italy, Chile, Argentina, Mexico, Jamaica, Puerto Rico, Venezuela and other countries.  Currently wines from Spain, Italy, Chile and Argentina are the country's top imported wines and their company executives will be present at the Festival.
Exhibitors at the Wine Festival in Havana include:  Bodegas Perica, UCSA Freixenet, Cantine Locci Zuddas, Bodegas Joan Sarda, Bodegas Miguel Torres, Bodegas Garcia Carion S.A., Bodegas Finca La Estacada, and Cantina Castorani.
A History of Wine in Cuba
A discussion on the subject of wine in Cuba may prompt some to wonder how the island's wine industry came into existence. Hundreds of years ago, a first attempt by Spanish colonialists to cultivate the grape was made. The attempt met with failure because of tropical climate conditions. To quench the Spanish thirst for wine, they began importing wines to Cuba in the 1500s.
The possibility of vineyards in Cuba did not begin until the ability to cultivate the grape in tropical climates was achieved. During the mid-1990s, improved technology made wine production possible in tropical environments such the Dominican Republic and Venezuela. These advances eventually led to the establishment of an 80-acre vineyard in Pinar del Rio in 1998.  The Pinar del Rio estate was a joint venture between Bodegas San Cristobal S.A. and the Cuban government. San Cristobal began producing wine made from Cuban grapes and Italian grape pulp.
In 2000, Bodegas del Caribe, a Spanish company began growing 22 types of grapes imported from the vineyards of Spain. It sought to adapt these species of grapes to Cuba's soil and weather conditions. The firm used 148 acres of farmland near the nation's capital.




A few years later, two firms started selling various wines under four different brand names. The companies were joint ventures held by European-based businesses and the Cuban government. They offered pink, red and white varietals. Each bottle had an attractive label designed by Cuban artists. A fair in Havana helped introduce these products.
During the early 2000s, it became feasible to fully manufacture wine on the island. Producers were able to grow the grapes, process them and bottle the beverage locally. Thousands of cases were distributed to high-end shops and hotels in various cities. They included the Pinot Grigio, Cabernet Sauvignon and Chardonnay varietals.
An Italian co-op donated seeds for one of the vineyards that yielded its first harvest during 2004. Growers are able to harvest twice each year. Most of the wine produced is sold to Cuba's restaurants and hotels.
Today, vineyards in Cuba can be found from the most obscure places such as the rooftops of Havana, to the mountains of the Sierra Maestra, Pinar del Río, Nuevitas in Camaguey (producers of the true Camagüey grape), and Artemisa regions.
Two vineyards of note are the Herdade do Rocim and the Bermejales wine estates. The Herdade do Rocim is located Vidigueira, in the Lower Alentejo region, a vineyard of 60 hectares accompanied by 10 hectares of olive trees. West of Havana, the Bermejales estate which was established in 2001 is 12.2 hectares in size.
Individual vinters who are proprietors of their own vineyards create artisan wines made from either grapes alone or a combination of fruits.  They market their wines both locally and to the hotels and restaurants of the Island.
The Cuban government's Green Rooftops program is designed to encourage urban agricultural efforts and further small business entrepreneurs.  One such interesting vineyard is the rooftop vineyard of Orestes Estevez in Havana.  He has been making wine for more than 20 years and is now able to hire people to work with him.  At the end of this article, readers can watch the interesting video about his rooftop vineyard.  This is a fascinating development for the wine industry of Cuba.
Yordanis Rey of Camagüey, another self-employed vintner creates artisan wines with the help of another government program called the Small Agribusiness Subprogram of the National Urban Agriculture Group, Agriculture Enterprise in Camagüey.
Some of the Cuban red wines are exported to other Caribbean islands or countries in Europe and Asia. Many buyers order them from Sweden, the United Kingdom, Curacao or Hong Kong.  Foreigners are curious about the taste of Cuban wine because it's a unique experience and anything Cuban these days, in case you haven't noticed, is just "hot topic trending."
Further advancements in the wine industry of Cuba include cultural exchanges taking place.  In 2015, Cuban sommeliers, invited by the Californian wine industry, visited the wine regions of Sonoma and Napa on a research and buying trip to the United States.
During early 2016, a large group of Californian wine producers visited the island's capital for the California Wine Symposium. The symposium introduced them to Cuban wines and included a wine tasting event. At the same time, local distributors, restaurant operators and experts had an opportunity to learn more about the vineyards of Cuba.  The California Wine Symposium was also an effort to assist California winemakers in obtaining contracts to export their wines to Cuba.
"Wine is also Culture"
While many Cubans remain unfamiliar with the wine culture, an increasing number of individuals have undergone training to work as sommeliers. In 2014, the island had over 250 of these wine experts, approximately 130 of them women. A group of Cuba's wine sommeliers toured California in 2014. An official sommeliers' club has been established as well.
The emergence of a wine industry in Cuba appears to be making considerable progress. In less than two decades, its vineyards have advanced from the experimentation stage to producing, selling and exporting a wide range of products. The Fiesta Internacional del Vino in Havana will help to promote greater awareness of this industry among locals and internationally.
It remains to be seen whether a true wine culture will develop among Cubans alongside their passion for rum and beer.  It is also difficult to say whether the Cuban wine industry will be able to compete with the traditional wine producing countries of Spain, Italy or France. Perhaps, rather than competing Cuba can develop the industry as the producers of the new artisan wines of "The South."  Indeed, that would be a very interesting proposition to the wine connoisseurs of the world.
Havana's Rooftop Vineyards: