---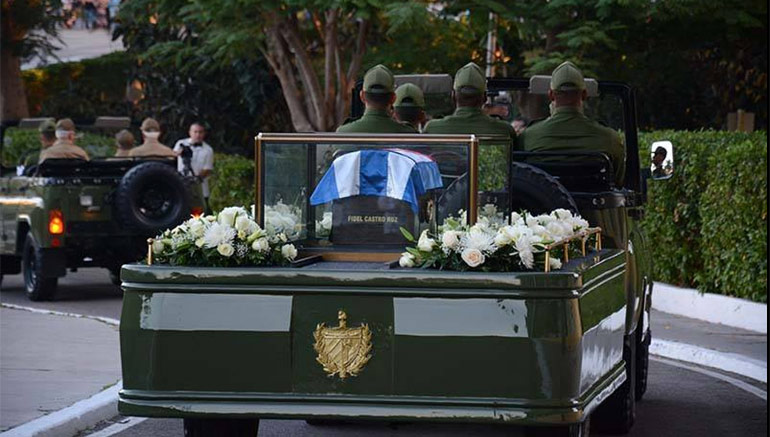 The ashes of Fidel Castro began the solemn four-day journey across Cuba on Wednesday to his final resting place.  The highly symbolic "Caravan of Freedom" will retrace the footsteps of the revolutionary leader and his army from Santiago to Havana in 1959.  There will be stops in Castro's hometown and the cities of Holguin, Camaguey, Las Tunas, Sancti Spiritus, Santa Clara, and Matanzas. Santiago de Cuba will be the final city of the 950-kilometer (590-mile) journey.  One of the most symbolic and memorable of those stops will be in Santa Clara at the Che Guevara Mausoleum (Mausoleo Che Guevara) where the ashes of the revolutionary hero Che Guevara and 29 other combatants are housed.
Over the past two days, hundreds of thousands of people have lined the streets and taken part in the memorial services held at Havana's Revolutionary Square.
Foreign dignitaries also paid their respects at the memorial services.  Representatives and politicians from Latin American and the Caribbean, Africa, Russia, China, Iran, and the Greek Prime Minister were in attendance at the memorial service which was followed by a massive rally on Tuesday night in Revolutionary Square.
President Raul Castro, 85, expressed gratitude toward the "countless gestures of solidarity and affection from around the world" and ending with the revolutionary battle cry, "Until victory, always!" and 

'I Am Fidel!'
"Today it is up to us to raise the flags of independence of the great fatherland, today it is up to us to hold the flag of dignity and freedom of the people," said Venezuelan President Nicolas Maduro.
Bolivian President Evo Morales said, "Fidel is not dead. …Fidel is more alive than ever, more necessary than ever."
Fidel Castro passed away last Friday at the age 90. He was Cuba's president from 1959 until 2006. In 2006, he retired because of illness and handed over his position as president to his brother Raul that year.
Castro's ashes, in a dark wooden urn and draped with the Cuban flag, were carried by soldiers.
On Sunday, December 4th, the urn will reach the final resting place at the Santa Ifigenia Cemetary in Santiago de Cuba, in the mausoleum of nineteenth century journalist, poet and revolutionary hero, Jose Marti.