---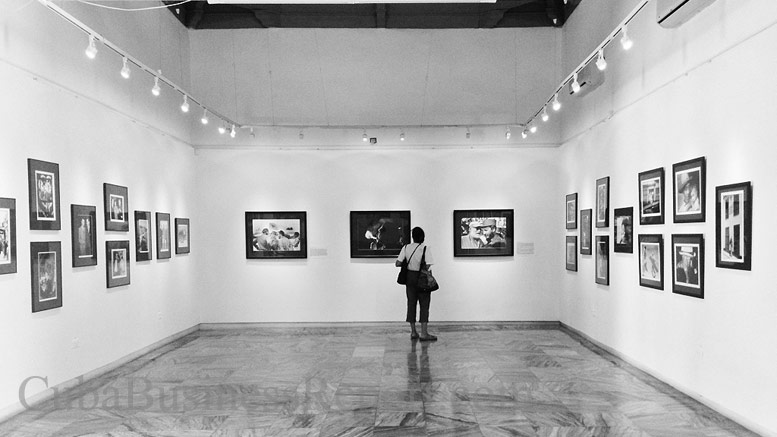 In an 18th Century two story building at 307 Mercaderes in the old Plaza Vieja, the Fototeca de Cuba or the Library of Cuba can found.  Fototeca was established in 1986.  Its mission is to preserve, study and promote the country's valuable photographic collection and create a space for the promotion and exhibition of contemporary Cuban photography.
The Fototeca de Cuba houses the national photographic archive (transferred from the Museo Nacional de Bellas Artes), a vast and valuable collection of documents. It is also a museum with the widest and most valuable collection of both historical and contemporary Cuban photography in existence. It serves as a gallery with spaces for temporary exhibitions of photography that are not (yet) a part of the permanent collections of the archives.
In addition, Fototeca also holds workshops, courses, and, is occasionally, a conference location. Its role is to promote Cuban photography overseas and to facilitate in the exchange of ideas in the art of photography. Fototeca promotes young Cuban talent within the nation and beyond its borders. Fototeca also runs photographic competitions with the goal of finding and developing new talent on the Island.
Nelson Ramirez de Arellano, previously chief curator at Fototeca from 2000 to 2010, is now the director at Fototeca.
Its mission and role (from the website of Fototeca of Cuba), is to:
… contribute , through a systematic and specialized work , the development and assessment of Cuban photography as a means of expression of our national culture . Conserve, promote, exhibit and publicize the photographic heritage that contains the institution's collection and the various manifestations of Cuban photography , based on the simultaneity of the same values ​​in its documentaries , testimonial , historical and artistic aspects ; both in Cuba and abroad. Preserve, conserve, restore , catalog, reproduced for promotional purposes and to spread the work contained in the collection.

and,

"Disseminate nationally and internationally, in the appropriate way, the most authentic and representative of our photography , and contribute to a better understanding of our country in the most significant of the global picture."

Increase the photographic collection of the institution
Investigate the history , aesthetics and techniques of photography and its contents
Working towards enhancing the intellectual and technical development of our contemporary photographers
Contribute to the development of a sensitive and responsive to the characteristics of the photographic language audience
Channel the concerns of young people and fans as well as foster their relationship with the environment.
0 comments