---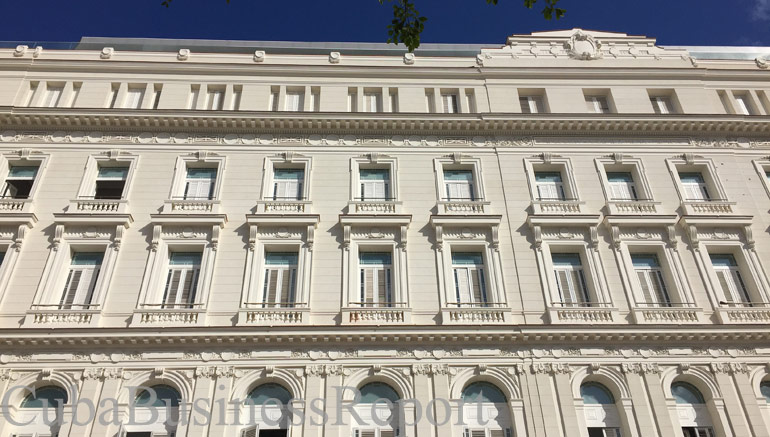 The Gran Hotel Manzana Kempinski La Habana. After much mystery, ongoing curiosity, and updates to previous articles, the truth is finally out. Kempinski will indeed manage the five star luxury hotel overlooking the Parque Central in La Habana Vieja. This is Kempinski's first hotel in Havana. Originally slated to open in October of 2016, renovating such a precious historical building obviously takes time. The Manzana Kempinski will open its doors in the second quarter of this year.
We and news media such as The Guardian and Cuba official news website, Granma, had reported that Kempinski would manage the Manzana Hotel. However, at the time, apparently this was not correct. We spoke with Kempinski directly in August of last year and they confirmed only that they did not have a signed management contract for a hotel in Cuba.
The Manzana Hotel in Havana is currently undergoing round-the-clock renovations to restore it to its former grandeur. It will offer ultra-deluxe accommodations managed by Kempinski.
The Gran Hotel Manzana Kempinski La Habana will offer 246 rooms and suites to hotel guests. Project plans for the Hotel include a selection of luxury boutiques on the ground floor.
Background to the Manzana Gomez Building:
In the early 20th century, the building was known as the Manzana de Gómez Block. The Manzana covers an entire city block in Havana on the streets Zulueta, Monserrate, Neptuno and San Rafael. It's in an ideal location in Old Havana, next door to the Hotel Plaza, facing the Parque Central across from the Hotel Inglaterra.
The original construction of the building began in 1890, but the project ran into problems and was not completed until about 1918. In its earlier days, it was once a shopping mall and offices, owned by the wealthy businessman José Gómez-Mena Vila. Gómez added four floors to the structure and completed it around 1918.
Habaguanex and Gaviota S.A. are currently managing the project of restoring the building. Renovations and reconstruction, which began in early 2014, go on 24 hours a day, seven days a week.
With the expected increase in American tourists, Havana is facing an "accommodation crisis." The Manzana Hotel will add to the number of available hotel rooms in the city, but only to high end guests. Also under construction in Old Havana, but closer to the Malecón are two other hotels.
Parque Central is already the absolute center of La Habana Vieja, offering some wonderful hotels which overlook the town square. Hotel Inglaterra, Hotel Plaza and Iberostar's Hotel Parque Central all look directly over the Park. In the vicinity, about five minutes walk from Parque Central, is the Saratoga Hotel.
The Gran Hotel Manzana Kempinski La Habana. Welcome to Havana.