---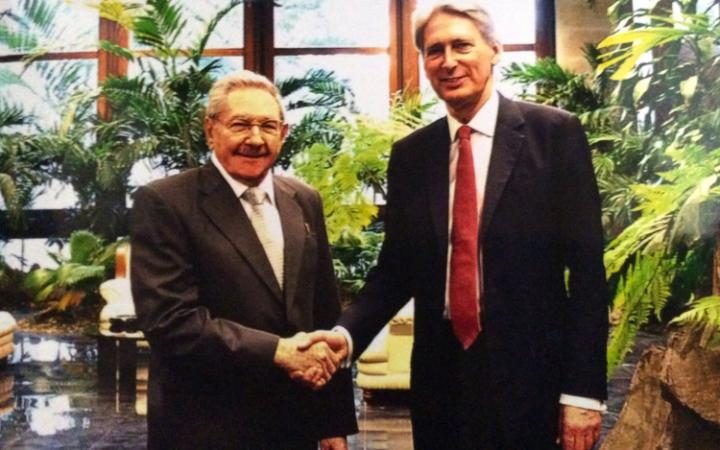 Only one month after U.S. President Barack Obama visited Cuba, the U.K.'s Foreign Secretary Philip Hammond met with Cuban government officials on his tour of Latin America. He is the first British Foreign Secretary to visit Cuba since pre-1959. The Foreign Secretary's meetings resulted in a debt restructuring agreement and four memos of understanding between the two governments.
Mr Hammond met with Cuban President Raul Castro and Foreign Minister Bruno Rodriguez.  The meetings discussed the opportunities for increasing British investment and business presence on the Island. The UK Minister also met with British members of the business community and Cuban civil society groups.
On speaking of his visit, he stated, "I am looking forward to demonstrating to the Cuban government and people that the UK is keen to forge new links across the Atlantic."
Mr Hammond was also seeking ways in which British companies can invest in Cuba without facing enormous fines from the US embargo.
Britain is currently Cuba's 11th largest trade partner.  Trade figures between the UK and Cuba are relatively small. In 2013, Cuban imports to the UK stood at £105m. The UK numbers to Cuba were £22m in 2013.  British tourists (160,000 of them) are the second largest number of tourists who vacationed on the Island last year (Canadian tourists are in number one place).
Last year a delegation of Cuban officials traveled to London to stimulate interest in construction, tourism and energy projects. Lord Hutton led a British business delegation to Cuba about a year ago to explore business opportunities.
Britain has never cut diplomatic ties with Cuba but British companies have been limited and punished by the US trade embargo.
Mr. Hammond and President Raul Castro reached an agreement on debt restructuring. They "verified the advances" in bilateral relations and "the potentials" in areas of common interests between the two countries.
A Cuban government statement read that any agreement "should contribute to the development of economic, commercial and financial relations between the two nations."