---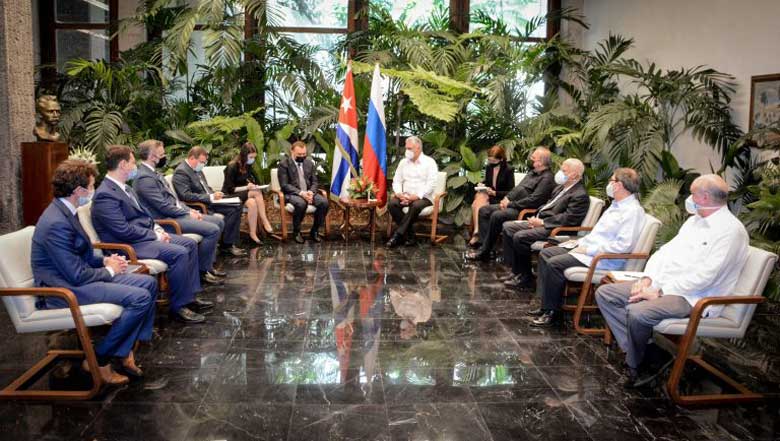 On Thursday, Cuba's President, Miguel Díaz-Canel Bermúdez, received the Vice-President of Russia and co-chairman of the Russian-Cuban Intergovernmental Commission for Economic-Commercial and Scientific-Technical Collaboration, Yuri Borísov. Vice-President Borisov is on an official visit to Havana to attend the XVIII Session of the Commission.
During the meeting, the excellent state of bilateral relations between Russia and Cuba was acknowledged and economic, commercial, and cooperative ties reviewed. President Díaz-Canel sent greetings to the Russian President, Vladimir Putin.
Vice-President Borisov was accompanied by the Deputy Ministers of Economic Development and Finance, Vladimir Ilichev and Timur Maksimov; Andrey Guskov, the Russian Ambassador to Cuba; and Nikita Valerievich Gusakov, Director General of the Russian Export Insurance Agency (EXIAR).
The Cubans were represented by Prime Minister Manuel Marrero Cruz, Deputy Prime Minister Ricardo Cabrisas Ruiz, as well as the Ministers of Foreign Affairs and Foreign Investment, Bruno Rodríguez Parrilla and Rodrigo Malmierca Díaz, respectively.
Russia is developing a broad investment plan in Cuba that includes strategic sectors such as railway transportation and electric energy production.
The Russian government is supporting the modernization of the entire railroad network in Cuba with an investment of around $2 billion.
Related News:
Russia is working with Cuba in the installation of four energy blocks of 200 MW each to be installed in the western region (Mariel 1 and Santa Cruz 3). This investment is worth about 2.5 billion Euros and should shield the Island's energy capacity to guarantee its development needs in the near future.
Likewise, Russia has established investment projects in other sectors of the Cuban economy such as metallurgy, iron and steel, automotive transport, educational collaboration and in the fields of science and biopharmaceuticals.
0 comments