---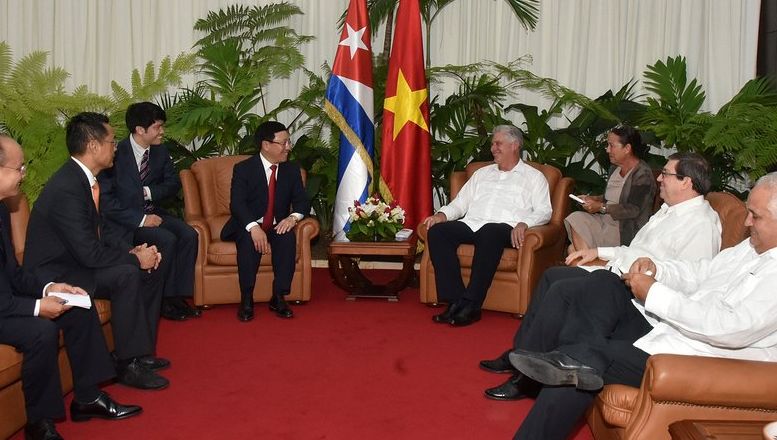 Vietnamese Deputy Prime Minister Pham Binh Minh made an official visit to Havana this week from May 19-21. Accompanying the Deputy were the Vietnamese Ambassador to Cuba, Nguyen Trung Thanh, and the Director of the Foreign Policy Department, Nguyen Minh Vu.
The Vietnamese officials met with Cuba's Minister of Foreign Affairs, Bruno Rodriguez, and the president of the National Assembly of People's Power (Parliament), Esteban Lazo Hernandez, and the Director General of Bilateral Affairs, Emilio Lozada García.
Cuban President Miguel Diaz-Canel also welcomed the Vietnamese delegation to Cuba.
In addition, the two Vietnamese ministers met with former president, Army General Raúl Castro Ruz, First Secretary of the Communist Party of Cuba Central Committee.
Cuba and Vietnam have progressed in economic-commercial, investment and cooperation relations over the recent years. Vietnam has been a strong supporter of Cuba in international affairs, especially in terms of ending the U.S. embargo against the Island nation.
The meetings between Rodriguez and Pham Binh Minh have resulted in the signing of a plan for bilateral Political Consultation Plan for the years 2020-2022.
The two sides also expressed the will to expand trade, economic and cooperation ties. Two-way trade between the two nations reached
$335.8 million US in 2018.
Other results of the official visit resulted in plans to intensify ties by increasing the exchange of delegations, regularly maintaining existing co-operation mechanisms, defense dialogues and completing a legal framework for bilateral collaboration. Both nations agreed to help Vietnamese and Cuban firms access eachothers business markets.
Cuba and Vietnam have shared historical relations since December 2, 1960­
0 comments