---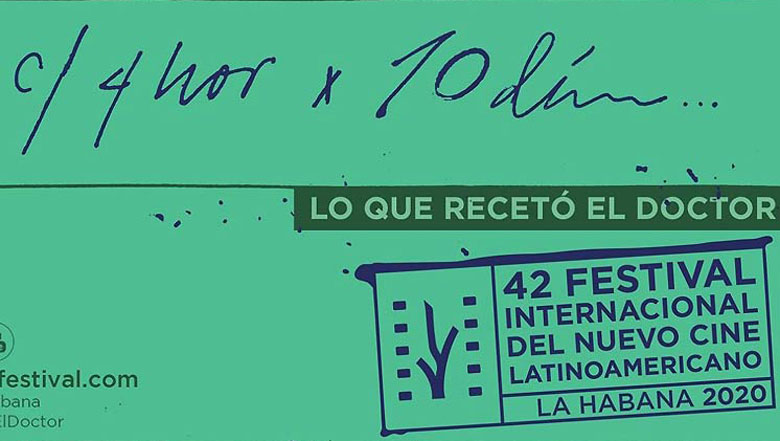 "There will be a Festival, and it will be in two doses," the president of the Havana Film Festival (International Festival of New Latin American Cinema), Iván Giroud Gárate, said in an exclusive interview.
Inspired in the current context of the COVID pandemic, the creative minds of the film festival board came up with the theme for the 42nd edition and have adapted "lo que recetó el doctor" (what the doctor prescribed).
The organizers of the Havana Film Festival will run the event in two "doses." The first part will run from December 3 – 13 in which 98 films will be screened. A second "dose" (part) will take place March 11 – 21 where the competitions, conferences and press conferences will happen.
The prestigious Coral prizes will be awarded in the second part of the Havana Film Festival.
Because of the high attendance of the Festival and limited connectivity for a Cuban audience, it was decided not to run the film festival online as many other festivals have done this year because of the pandemic.
"Latin America in Perspective" and "Contemporary International Panorama" will be presented in the first "dose" (part) of the Festival.
The following cinemas for film viewing have been chosen: the 23rd and 12th, the Riviera, the Yara, La Rampa and the Acapulco cinemas. All will be operating at reduced capacity with numbered seats and strict sanitary measures in place.
Films entered into the festival include works by filmmakers from Argentina, Brazil, Chile, Colombia, Costa Rica, Cuba, Dominican Republic, Ecuador, Honduras, Ireland, Great Britain, Mexico, Peru, Puerto Rico, United States, Venezuela, and more.
Related News:
Mr. Giroud said that only two competitions, "Unpublished Posters" and "Scripts" will take place at the December event.
In December the distinguished directors Juan Padrón and Francisco (Paco) Prats, who died, this year will be honored. The 2020 National Film Award, won by Paco Prats and Senel Paz, will also occur.
Giroud added that the productions for the second part of the Havana Film Festival depend on the recognition of other films at other major film festivals around the world in the first quarter of 2021.
0 comments